Thursday, 8th January 2009
Walk:
Lever Park Terraced Gardens, Pigeon Tower, Rivington Pike, Pike Cottage, Lever Park
Start Point:
Great House Barn
Grid Ref:
SD 629 139
Distance:
4 miles
Ascent:
840 feet
Weather:
A clear day initially but with a cloud inversion by the time I got up to the Pike meant that I descended into mist as I returned to the car
Accompanied by:

On my own

Comments:
There was quite a lot of ice still around, especially on some of the steps in the terraced gardens. The cloud inversion that I saw from the Pike covered the area south of Chorley.
Scroll down to see photos of the walk
One of the paths in the Terraced Gardens
Ascending the terraces there are a number of garden features . . .
including a shelter . . .
from where the mist can be seen creeping towards the reservoirs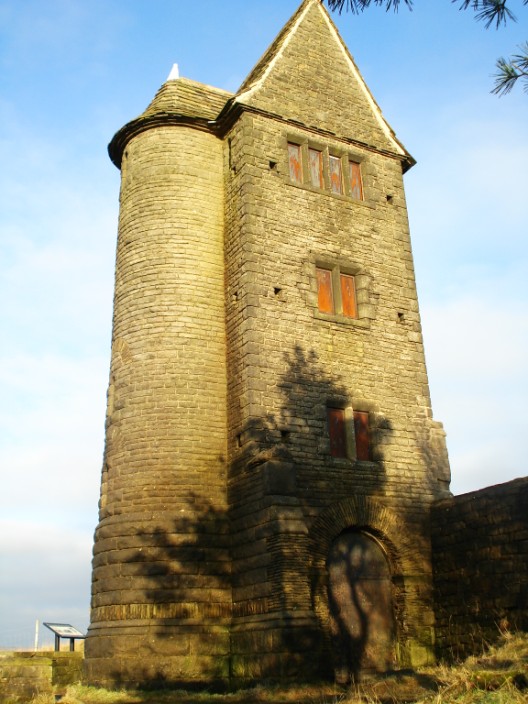 The pigeon tower with the semi-circular spine that holds the spiral staircase
The top floor of the Pigeon Tower held a small sitting room overlooking the boating lake and may have been used as a sewing room by Lady Lever
From Rivington Pike the full expanse of the cloud inversion can be seen
On the horizon one of the Two Lads cairns can just be seen
The short route to Winter Hill
Rivington Pike was erected in 1733 a hunting lodge used by Squire John Andrews. Due to erosion the foundations can be seen with the door 40 inches above soil level
Looking back to Rivington Pike
Crossing the River Douglas on its way to join the Lower Rivington Reservoir
Return to 2009 Diary Return to top