Sunday, 9th August 2009
Walk:
Threlkeld Side, Backstone Edge, Narrowgate Beacon, High Cup Nick, Murton Village
Start Point:
Car park at Dufton
Grid Ref:
NY 688 248
Distance:
14 miles
Ascent:
1,700 feet
Weather:
Overcast in the morning with patchy sunshine in the afternoon
Accompanied by:

6 members of the group, led by Phil

Comments:
Climbing up the Rundale Valley track we eventually made our way to the shooting hut. From here we headed across rough moorland to the summit of Backstone Edge. Skirting the Edge there were great views of the Lake District Fells and after passing Narrowgate Beacon High Cup Nick was revealed in all its glory.

Going 'down the nick' we followed a path above the boulders, then turned to head down a steep grassy path into the valley. The rocks on the valley floor provided the perfect spot for lunch before continuing down the valley and on to Harbour Flats. After walking through the picturesque village of Murton we headed across fields and through woodland to climb back up to the car park.
Scroll down to see photos of the walk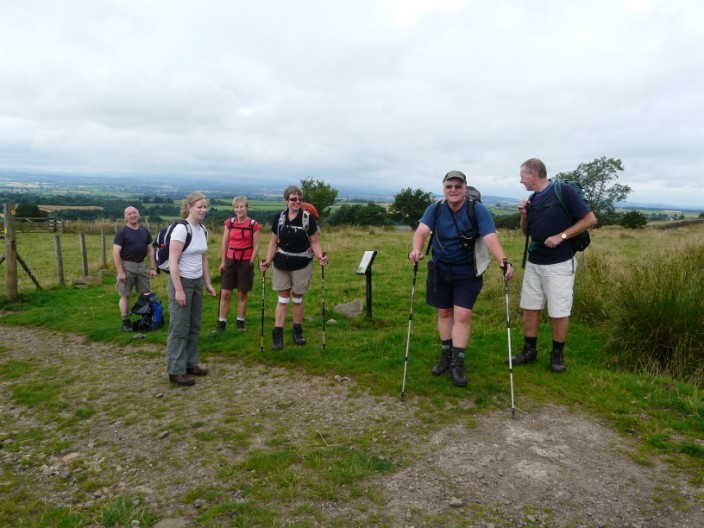 Gathering the troops near the start of the walk . . .
and heading up the Rundale Valley
Looking back down the valley to Dufton Hill
Time for elevenses before . . .
carrying on to the shooting hut
Rob checks out the view from Backstone Edge
Now what has taken the group's attention?
From this angle we can see that they have spotted . . .
the spectacular view of High Cup Nick . . .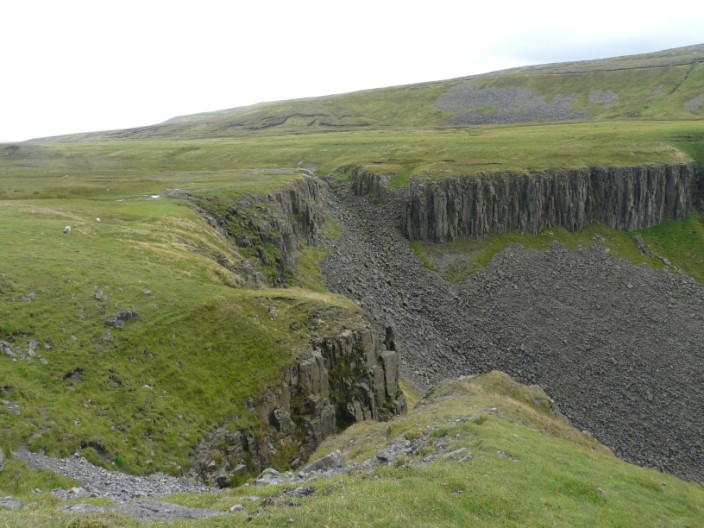 and the start of our route down
What a sight!!!
Heading 'down the nick' . . .
our path traverses above the rocks . . .
but Ray prefers the 'hard' way
Pausing on the steep grassy slope before
Another group heads in the opposite direction . . .
but follow the path straight to the top
Sun highlights the valley
Walking through the picturesque village of Murton . . .
having bypassed Murton Fell . . .
the group takes a closer look at . . .
Bobbin Mill cottage
The owl and scarecrow keep an eye on the vegetable plot at Shepherd's Cottage
and the Rowan tress are laden with berries
You don't see many hay bales . . .
in stacks like these!