Wednesday, 9th September 2009
Walk:
Stainforth, Catrigg Force, Giggleswick Scar, Smearsett Scar, Feizor, Feizor Thwaite, Little Stainforth
Start Point:
Stainforth car park
Grid Ref:
SD 820 672
Distance:
12.3 miles
Ascent:
2,300 feet
Weather:
Mainly sunny and hardly a breath of wind
Accompanied by:

On my own

Comments:
A combination of parts of Walks 8 and 9 from Walks in Ribble Country with a detour added towards the end.
With an excellent forecast it was a last minute decision to complete this walk, and it was certainly a good choice. A somewhat circuitous route was take to visit Catrigg Force before continuing on past Upper and Lower Winskill. Crossing Ribblesdale just north of Langcliffe and passing through the tiny hamlet of Stackkouse , it was a gradual climb to meet the rather unsightly stone wall that surrounds the huge quarry. Moving quickly on there were excellent views to the south-west as I approached Giggleswick Scar. Spotting the opening of a cave (possible Kinsey Cave) closer exploration was needed but the inviting inner passageway was a little narrow for my liking! At Feizor Thwaite the Scars to my right proved too appealing and I diverted from the planned route to climb Smearsett Scar. Once on this ridge the attraction of a ridge walk and another 'summit' proved too much and I walked along to Pot Scar before descending to Feizor. It was then time to rejoin the original route and return to the car via Little Stainforth. A very enjoyable day in beautiful weather.
Scroll down to see photos of the walk
An erratic en route to Stainforth Scar with Smearsett Scar in the distance
Crossing Catrigg Beck
Heading into woodland . . .
to visit . . .
Catrigg Force
Returning up the access path . . .
the top of the waterfall is just visible . . .
and the spray from the water creates a rainbow
Looking back to Stainforth Scar after walking through Upper and Lower Winskill.
River Ribble just North of Langcliffe
A substantial wall guards . . .
a huge quarry on the climb to Giggleswick Scar . . .
where there are great views to the south-west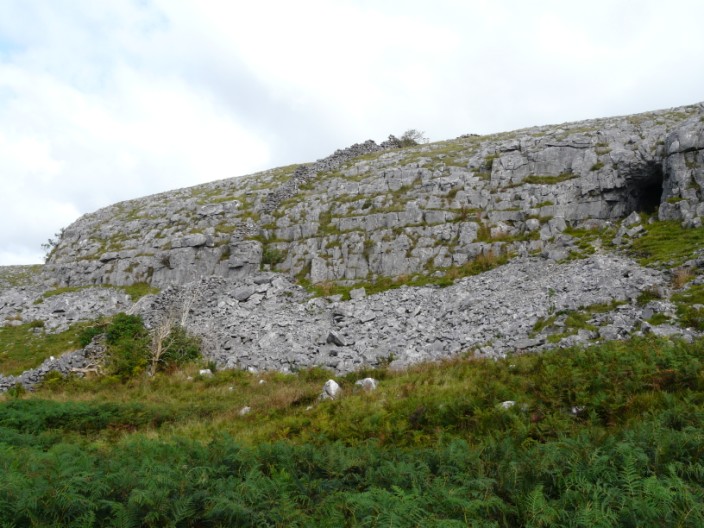 Giggleswick Scar . . .
where Kinsey Cave is found . . .
and needs further investigation . . .
where a narrow passage on the right . . .
leads further into the cave - not for me
As I leave a couple of ladies decide to make a visit
Looking back along Giggleswick Scar
Smearsett Scar with Pen-y-Ghent in the distance
Not easy to get the camera in the best position today!
Pot Scar, a huge rocky mound topped by a cairn
Pot Scar on the left where the rocky mound can just be seen, and Smearsett Scar on the right