Sunday, 1st August 2010
Walk:
Downham, Pendle Hill, Great Coppy, Twiston, Downham Green
Start Point:
Downham car park
Grid Ref:
SD 784 440
Distance:
9 miles
Ascent:
1,820 feet
Weather:
Dry with some bright periods
Accompanied by:

Sheila

Comments:
As there was no group walk today Sheila joined me on a local walk taking in Pendle and the surrounding area. We followed a clear path from Downham, a picturesque village that was featured in 'Whistle Down the Wind' and used as a setting for 'Born and Bred'. Few people had reached the summit of Pendle Hill by the time we got there but more were on their way up the 'tourist' path. After walking across the lower slopes of Pendle we navigated through pleasant fields and pasture on good tracks. At Downham Mill an alternative route had been created to avoid the building, now a house. After climbing past the wooded limestone outcrop it was then an easy stroll back into the village.
Scroll down to see photos of the walk
Not many people around . . .
on the summit of Pendle Hill
Looking East to Upper and Lower Black Moss Reservoirs . . .
and to Lower Ogden Reservoir next to Fell Wood
Sheep decide to join in on the 'tourist' path
Hecklin Farm with mullioned windows
Right turn!
Sheila checks out the footbridge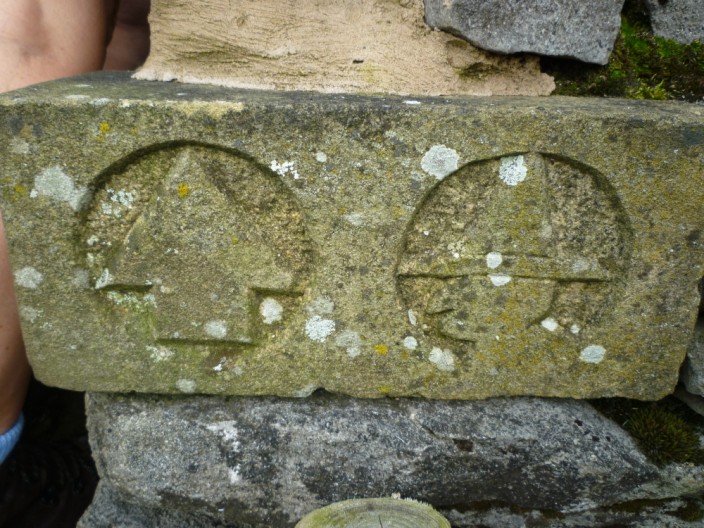 A reminder that this is 'Witch Country'
Looking back to Pendle Hill
An unusual weir near Downham Mill
The wooded limestone knoll above Downham Mill
An interested trio
Beautiful cottage gardens . . .
I'd like to take this one home with me!
Assheton Arms - named after the Assheton family . . .
one to 'bag'
Typical historical houses opposite the river . . .
which you have to cross to reach the car park
Return to 2010 Diary Return to top