Sunday, 5th December 2010
Walk:
Sawley, Bank Bottom, Higher Asker Hill, Beacon Hill, Lower Heights, Broad Ing, Bolton-by-Bowland, Skirden Beck, River Ribble
Start Point:
Spread Eagle car park, Sawley
Grid Ref:
SD 777 465
Distance:
10.5 miles
Ascent:
1,200 feet
Weather:
A sunny but cold day with a good covering of snow
Accompanied by:

Phil (recce for his walk) and Karen

Comments:
It may have been cold with a lot of snow around but it was a glorious day for a walk. The only problem was deciding which views to photograph and which to leave to make sure that we got back to the car before the sun set! Most of the walk was through fields and over pasture land, with the short stretches of road being reasonably clear of snow.
Scroll down to see photos of the walk
The sun creeps in at the back of the car park . . .
but the way out looks just like last year!
The ducks huddle . . .
beside a frozen River Ribble
Snow covered fields . . .
and frozen water . . . .
are the order of the day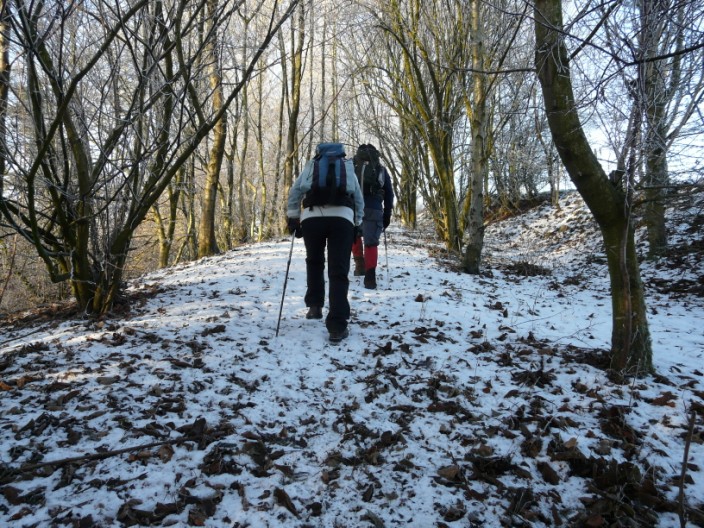 Heading into the woods
Phil concentrates . . .
on getting a close up of the ice crystals . . .
and the sun peeps through the trees
Phil and Karen head across the field . . .
and past a tree in winter array
Looking back to Pendle - with mist creeping in from the Clitheroe side
Woodland adds variety to the walk . . .
as we head up to Beacon Hill
A glorious winter scene . . .
and a frozen stream . . .
with a sunny spot for lunch
Great views are everywhere on this walk
This time the stream . . .
is frozen solid
A rather unusual tree
More views to enjoy . . .
with Pendle still in the distance
Even tracks in the snow hold their own attraction
Karen spots some picturesque stems . . .
which draw the cameras . . .
to capture more ice crystals
A rather different view - yes, it really is a dung heap!!
A disappearing sun highlights a small group of trees . . .
and the River Ribble . . .
provides a picturesque scene . . .
and the sun begins to set . . .
as we make our way back . . .
towards Sawley, and the car
Return to 2010 Diary Return to top