Sunday, 14th December 2010
Walk:
Ickornshaw, Wood House, Lane Ends Bridge, West Closes, Glusburn Bridge, Jack Field Lane, Lund's Tower, Wainman's Pinnacle, Hitching Stone, Close Lane, Pennine Way
Start Point:
Holy Trinity Church, Ickornshaw
Grid Ref:
SD 967 430
Distance:
8.4 miles
Ascent:
1,370 feet
Weather:
A dull day with a cold breeze at times
Accompanied by:

On my own

Comments:
The beginning of the route had to be changed as the Bridge Mill Bridge across Gill Beck needs replacing - a couple of locals told me that it was damaged at least two years ago and that it will cost £235,000 to replace!!! After walking through fields and along a farm track I headed down to Glusburn Bridge. From here I took the direct route up Jack Field Lane and on to Lund's Tower with its spiral staircase of 39 steps giving access to a small viewing platform. The tower was constructed by James Lund of Malsis Hall either to celebrate the birth of his daughter Ethel or the Golden Jubilee of Queen Victoria (1887). It was the perfect place to stop for morning coffee before continuing across the gritstone edge to Wainman's Pinnacle. This was erected either by Lady Amcotts in memory of her husband, one of the Wainman family, or by Richard Wainman to mark the Battle of Waterloo (1815).

From here I headed south to the Hitching Stone, a gigantic cube of gritstone estimated to weigh around 1,000 tons, and considered to be the largest detached boulder in Yorkshire. From here I had hoped to continue south to meet the Pennine Way but the terrain was too rough so I made my way past grouse butts to join a path to Long Hell End. From here it was a short walk down Close Way to join the Pennine Way and walk back into Ickornshaw.
Scroll down to see photos of the walk
Earl Crag with Lund's tower on the left and Wainman's Pinnacle on the right
Glusburn from the route up to Lund's Tower
Lund's Tower from the quarry
The entrance to Lund's Tower . . .
leads up the 39 steps to the viewing platform
from where you can check out the route across Earl Crag with the moors to the south (left)
and Ickornshaw in the valley,
the view down to Glusburn
Approaching Wainman's Pinnacle . . .
with Ickornshaw to the right
The Pinnacle stands on a huge gritstone outcrop . . .
with views back across to Lund' Tower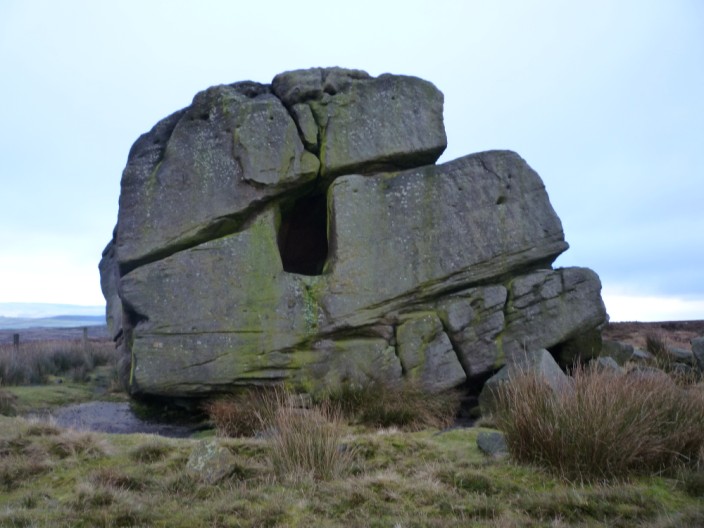 The Hitching Stone . . .
legend has it that the stone originally stood on Rombald's Moor, in front of a witch's house . . .
and in a violent fit of rage she flicked - or 'hitched' the boulder across the valley . . .
to its present resting-place
A lonely Shetland pony
Holy Trinity Church with its own star . . .
and novel way of keeping the grass down!
Return to 2010 Diary Return to top