Sunday, 14th February 2010
Walk:
Clerk Hill, Nick of Pendle, Badger Wells Hill, Deerstones, Churn Clough Reservoir, Padiham Heights, Read Hall and cross Read Old Bridge and Portfield
Start Point:
Spring Wood car park
Grid Ref:
SD 740 360
Distance:
11 miles
Ascent:
1,440 feet
Weather:
A bright start but he early winter sunshine was replaced by cloud cover in the afternoon
Accompanied by:

8 members of the group

Comments:
Today's route was a combination of parts of three walks I had previously done in this area and worked out very well, creating a route suitable for the group I walk with. The day started out well with sun and blue skies and before long we were able to discard coats - for the first time this year. By the afternoon cloud cover had won out but did not spoil the enjoyment of the walk - or the jibes from the group of 'When are we turning right?', 'Are you sure we are going in the right direction?', etc., etc. However, everyone seemed to enjoy the walk.
The previous walk to Read Heights can be found here.
Scroll down to see photos of the walk
The sun is shining as we prepare to leave Spring Wood car park . . .
and climb up towards Clerk Hill
Sunny vies across to Whalley Nab . . .
and down to the viaduct . . .
but it is still frosty in the shade
The small patches of snow are at Deerstones, our planned coffee stop
The path to Pendle looks busy ahead . . .
but we turn off to Deerstones - and the serious business of a morning break
Some of the group opt for a scramble . . .
whilst the rest of us take the easy way down . . .
before heading through the woods . . .
and across the stream
Ian checks out the kissing gate but John opts for the easy route!
After crossing Sabden Brook . . .
we leave the fields . . .
and head up Padiham Heights . . .
en route to Black Hill . . .
where we stop for lunch
Shady Walks . . .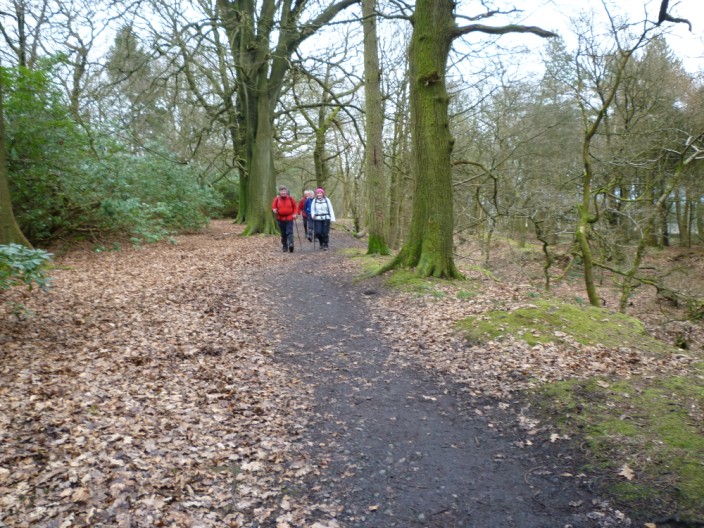 but no sun to create light and shade seen last time I was here
Ian and Tony inspect an interesting tree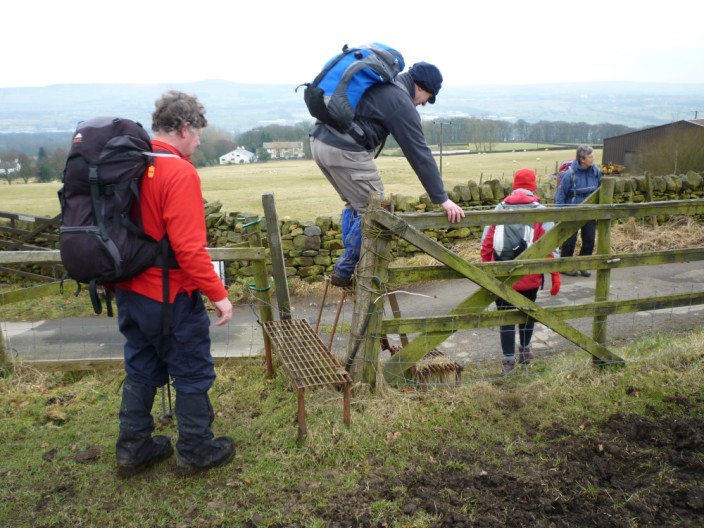 Clean your boots as you cross the stile!
Sheila looks on as John demonstrates . . .
how to get through a narrow kissing gate
The mouse planter looks rather sad today . . .
but at least the snowdrops are blooming
An interesting group of buildings . . .
at the entrance to Read Park
Read Hall Old Bridge - where, in 1643, the Parliamentarians (500 men) ambushed the Royalists (5,000 men) and chased them back to Ribchester
Two Welsh Cobs . . .
enjoy a frolic at Portfield
Return to 2010 Diary Return to top