Sunday, 25th July 2010
Walk:
Cotterdale, Great Shunner Fell, Pennine Way, Cotterdale, Tarn Hill, Cotter End
Start Point:
Lay-by on A684 1.6 miles after Garsdale Head viaduct
Grid Ref:
SD 822 922
Distance:
14.6 miles
Ascent:
2,870 feet
Weather:
Mainly fine with a little light rain in the morning
Accompanied by:

7 members of the group led by John L

Comments:
After a short climb we headed down to Cotterdale then along the flanks of the hillside to cross the Pennine Way. We then headed up beside Hearne Beck where the ground was rather boggy - for nearly 2 miles!!!!! A stiff climb over springy heather sapped the energy and tested the calf muscles before we reached a more gradual path that took us up to the cross shelter of Great Shunner Fell. We enjoyed lunch in the sheltered sections before heading along the Pennine Way - where the paved sections were frequently under water! After a rapid descent we turned off the Pennine Way to head through the disappearing woodland and down to Cotterdale where we had a deja vu experience -weren't we here this morning? John had another 'little' climb for us, up to Tarn Hill before descending back to the cars.
Scroll down to see photos of the walk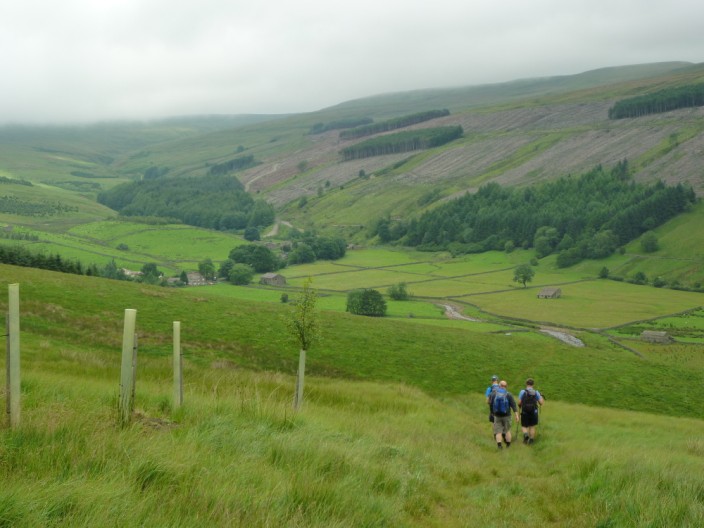 After an short climb we head down to Cotterdale . . .
where we cross East Gill on a picturesque bridge . . .
before sampling a strictly utilitarian bridge
Time to adjust layers before making our way through an ENDLESS boggy area . . .
perhaps the reason why this trotting carriage is stuck here!
Time for a break after a tough climb over springy heather . . .
and is that a better path that John and Rob are discussing!
Time to go . . .
after taking lunch at Great Shunner Fell . . .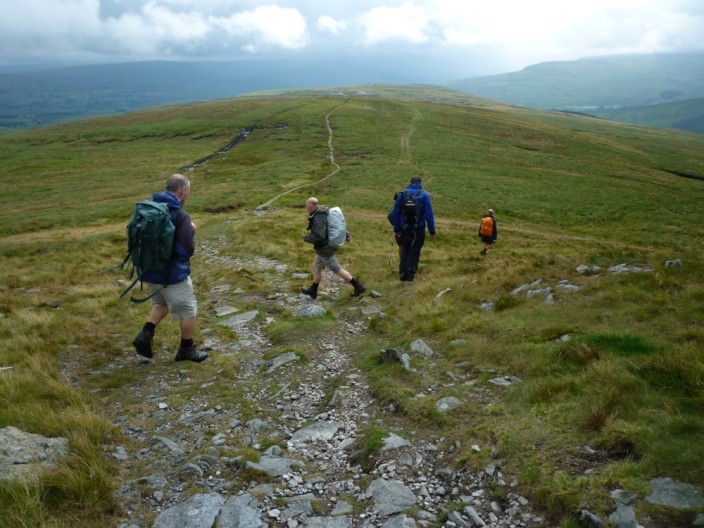 Before long we leave the paved track of the Pennine Way . . .
to head down to the valley . . .
where a large flock of crows make their way over the trees
Heading into the woodland . . .
which doesn't last long - a case of 'the disappearing forest'
A small waterfall adds interest . . .
to the walk through Cotterdale Woods . . .
where we cross yet another bridge . . .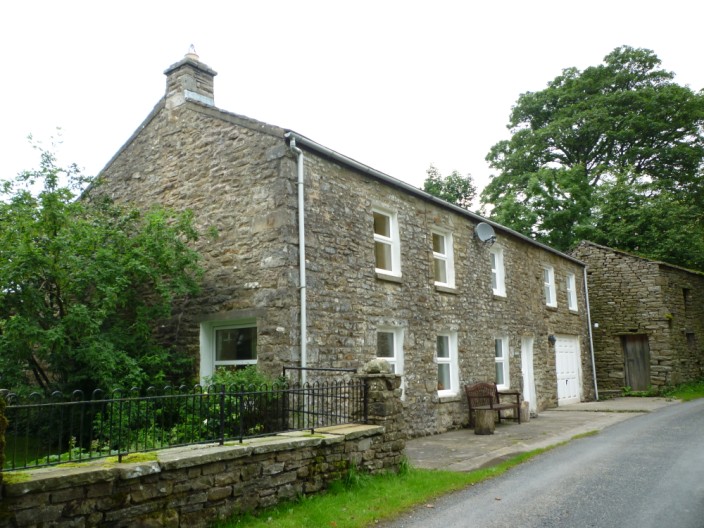 leading into Cotterdale
Back on the hillside we pass a rather grim practice . . .
and it won't be long before the grouse are in danger
despite the 'Recovery Project'
where the wall provides shelter for an afternoon stop
Limestone country - better not slip down this sink hole
Looking down to Garsdale viaduct, just above the centre of the photo
A lime kiln highlights the nature of the area
A young foal enjoys a frolic . . .
but mum is more interested in an afternoon snack
Return to 2010 Diary Return to top