Friday, 18th June 2010
Walk:
Wood House Lane, Croasdale Fell, Roman Road, Whitendale Fell, Whitendale Farm, Dunsop Head, Burn fell, Dunsop Fell
Start Point:
Verge on Wood House Lane
Grid Ref:
SD 692 547
Distance:
9 miles
Ascent:
1,400 feet
Weather:
Dull but warm and dry
Accompanied by:

On my own

Comments:
The beginning of the walk along the moorland road can become a little tedious as it is mainly a stony track. Known as the Hornby Road it overlays a Roman Road in places and used to be a packhorse route used to transport salt from Morecambe Bay to the farms of Bowland and the Ribble Valley. Turning off to head down beside the Whitendale River the narrow path is well marked. After passing Whitendale Farm the route heads up a zig-zag path and through heather to Dunsop Head, the crossing point of three fell top footpaths. From here I diverted to the trig point on Burn Fell before making my way across Dunsop Fell and back to the car.
Scroll down to see photos of the walk
From Croasdale Fell the stony track stretches back . . .
and ahead for some distance
This shooting hut looks very substantial
With little of interest to photograph, Great Bull Stones provide a focal point
Heading down the Whitendale Valley . . .
where a cairn, marked on the map, is quite unexpected
The river meanders beside the path for part of the way
It looks like this sheep had triplets . . .
till one wanders away calling for its mother
An interesting garden area behind Whitendale Farm
Climbing up from Whitendale Farm . . .
a truck makes its way along the narrow road . . .
with a workers' hut on the back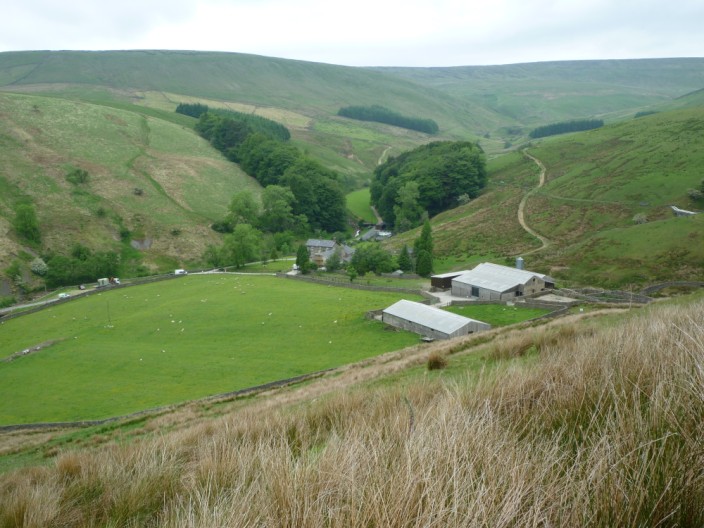 After approaching the farm . . .
the truck turns around . . .
and deposits the hut - entertainment while I have my morning break!
The trig column on Burn Fell . . .
and life would be easier if I had a tripod
I wouldn't stay around here for too much longer!
Return to 2010 Diary Return to top