Wednesday, 23rd June 2010
Walk:
Coppermines Valley, Red Dell, Wetherlam, Swirl How, Great Carrs, Grey Friar, Brim Fell, Goat's Water, Walna Scar Road
Start Point:
Fell Gate, Walna Scar Road
Grid Ref:
SD 289 970
Distance:
11 miles
Ascent:
3,530 feet
Weather:
A cloudy start turning to thick mist and strong wind in the afternoon
Accompanied by:

Sheila

Comments:
The purpose of this walk was to try out a different route to Wetherlam, up the Red Dell valley. This turned out to be a good path, though boggy in places, through a bouldery valley with a steep, mainly grassy climb at the head of the valley. After taking a break in the shelter of the rocks we continued on to Swirl How and Great Carrs. A quick 'yomp' across the grass soon brought us down to the col, then it was another climb up to Grey Friar. We inspected the two summits and agreed that the southerly one was the highest, and therefore the true summit, but that the northerly one was the more impressive and had better views. By the time we reached the contouring path across the head of the valley the mist was blowing in stronger and more thickly than earlier - not a good sign!! The weather continued to deteriorate as we followed the path to Brim Fell, then we decided to miss out the 'Old Man' before descending by Goat's Water. Eventually emerging from the mist and the wind we followed the rocky track down to the Walna Scar Road and back to the car.
Scroll down to see photos of the walk
Approaching Church Beck the first waterfall comes into view . . .
before we cross Miners Bridge . . .
then spot another waterfall
Present day activity at Coppermines Valley . . .
and the remains of past activity
Where are the sheep?
A split rock points the way up Red Dell . . .
and from higher up sun highlights the valley . . .
while mist hovers over the 'Old Man'
The rocky summit of Wetherlam . . .
and descending to Levers Hawse, Prison Band towers below Swirl How
Even Levers Water looks lower than usual
Looking back to Wetherlam from Swirl How, and the mist threatens
Sheila 'bags' Swirl How
Grey Friar provides the backdrop to the memorial . . .
to the crew of the Halifax bomber
A short spell of sun highlights Great Carrs . . .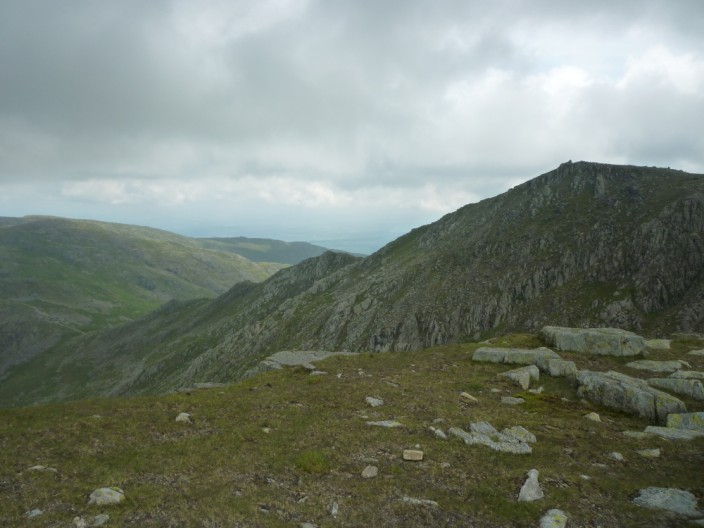 from where the ridge climb to Swirl How stands out clearly . . .
and I 'bag' the summit for the fifth time
The Matterhorn rock on the way to . . .
Grey Friar's northern cairn . . .
but the southern cairn is the highest one
Finally emerging from the mist as we make our way down to Goat's Water