Friday, 25th June 2010
Walk:
Cowan Bridge, Springs Wood, Ease Gill Kirk, Casterton Fell, Barbon Low Fell, Brownthwaite Pike, Whoop Hall Inn
Start Point:
Cowan Bridge, car park behind Village Shop
Grid Ref:
SD 635 764
Distance:
12.6 miles
Ascent:
1,680 feet
Weather:
Mainly sunny and hot
Accompanied by:

On my own

Comments:
This walk should have started in Casterton but it was impossible to find a parking spot even for just one car. As Cowan Bridge was on the route I decided to look there and was really pleased to find the perfect spot just behind the Village Shop. From there I headed into Springs Wood before walking parallel with Ease Gill until I reached the clearing just before Ease Gill Kirk. This was a really interesting place to explore with a little scrambling. I then followed alongside the dry river bed for nearly a mile before heading across Casterton Fell. The route brought me out at Bull Pot Farm which is now the home of Red Rose Cave and Potholing Club. From there it was an easy climb onto Barbon Low Fell but you need to go through the gate soon after leaving the road to be able to reach the trig point. A short walk then took me across to Brownthwaite Pike with its large cairn and shelter. After following a good track off the fell the route then led along green lanes and through fields back to Cowan Bridge. A very enjoyable day with varied walking and points of interest along the way.
Scroll down to see photos of the walk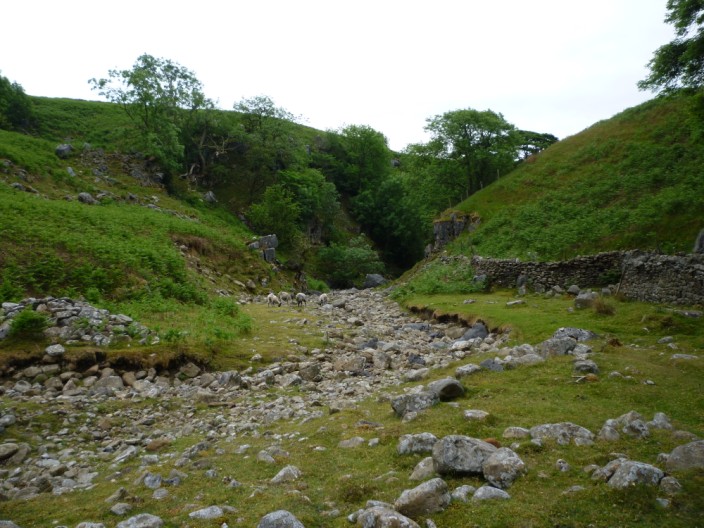 Looking down Ease Gill, a dry river bed . . .
and upstream, a dry waterfall where the limestone has been smoothed in the past
Ease Gill Kirk looks easy to exit until you realise that the bottom of the u shaped opening is about 6 feet from the floor of this interesting feature . . .
which was one a cavern . . .
but the roof collapsed many years ago . . .
and the only way out is the way you came in - unless you want to try the scramble upstream!
Looking up the Gill from just above the Kirk . . .
and looking back from further along the route
Walking along the dry river bed another waterfall blocks the way . . .
and this time there is water flowing . . .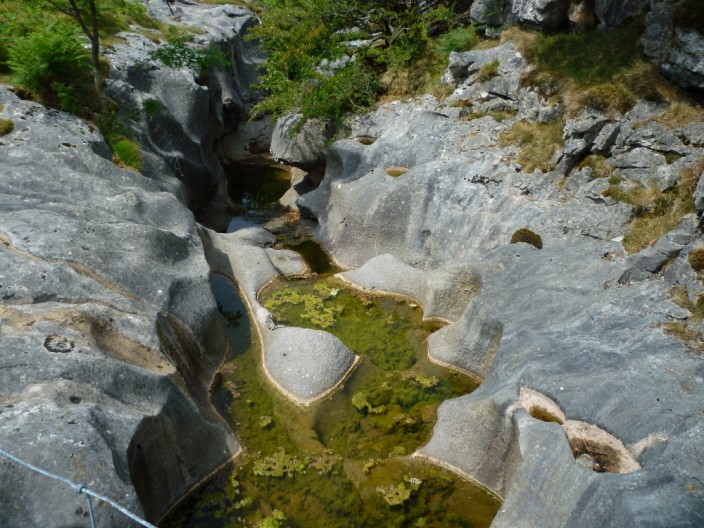 but a path round the side brings you out above the waterfall . . .
and climbing out of the Gill you can look 'upstream' . . .
and 'downstream'
No name for this summit but it is the highest point on Barbon Low Fell . . .
and nearby Brownthwaite Pike is marked by a large cairn
A new crop - but I wonder what it is?
A lone stile just off the main road
A bridge in the middle of a field?
Well, it does span a small stream!
And nearby is an unusual stile
The 'old and the new' at Cowan Bridge . . .
and it may say Leck but it is Cowan Bridge that you are entering
Return to 2010 Diary Return to top