Walk:
Langcliffe, Catrigg Force, Stainforth, Stainforth Force, Smearsett Scar, Pot Scar, Feizor, Giggleswick Scar
Start Point:
Langcliffe car park
Grid Ref:
SD 823 651
Distance:
10.8 miles
Ascent:
1,930 feet
Weather:
An early mist giving way to a fine day with sunny spells and a cold wind
Accompanied by:

10 members of the group

Comments:
This is one of my favourite walks and I was really looking forward to leading it for the group. We were lucky to have good weather with sunny spells despite early morning mist. The group was surprised at the beauty of the dell into which Catrigg Force descends, and with bare trees we had a good view of the water. Pleasant walking took us through pasture land into Stainforth and on to Stainforth Force where we stopped for a coffee break. A short walk along the road took us to a green lane which was much drier than the last time I did the route. After a few more stiles we took a pathless route up the side of the ridge to Smearsett Scar trig point. With a cold wind blowing we were soon on our way along the ridge to Pot Scar. Exploring the sound of voices we spotted a group at the base of the escarpment, preparing to climb the vertical limestone face. An easy path then took us down to join the track into the small hamlet of Feizor, where we quickly passed the tea rooms before heading to Feizor Thwaite. A southerly path led across to Giggleswick Scar, and a little cave exploration. The pleasant green path, typical of limestone country, then carried us on to the large quarry and down the track and road to Stackhouse. From here it was a short walk to cross the River Ribble and follow the road back into Langcliffe.
Scroll down to see photos of the walk
En route to Catrigg Force we have a good view back down the Ribble Valley
Marie checks where the water is going . . .
whilst others explore where it is coming from
All is revealed . . .
when we head down into the dell
Lining up for lunch
John checks out Stainforth Force
Wall stile or wooden stile - you can choose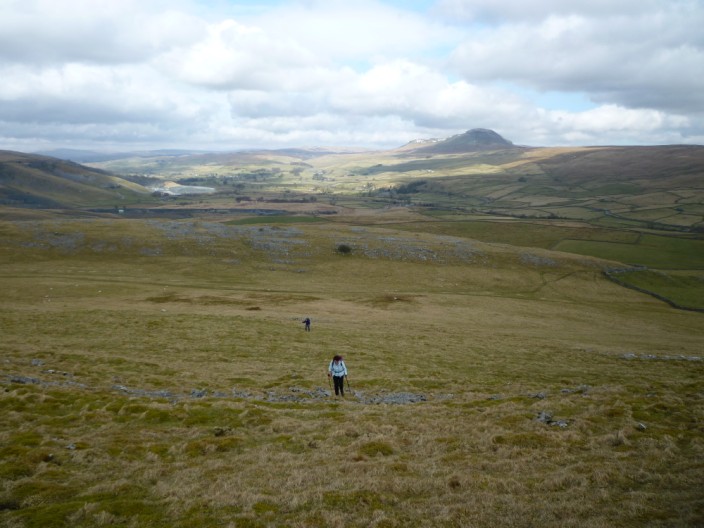 Pen-y-Ghent in the distance as we head up to . . .
Smearsett Scar trig point
Zooming in to Smearsett Scar from Pot Scar gives a clear picture of the escarpment
The rocky top of Pot Scar . . .
and nearby a group prepares for some rock climbing
This house has an interesting garden feature . . .
and an unusual chimney pot
Not much shelter - as we stop for lunch
Giggleswick Scar . . .
where we find two caves . . .
and explore the second one . . .
Kinsey Cave
Some of the group decide to forego the cave exploration
Crossing the River Ribble near the weir
Not far to go now!!!
Return to 2010 Diary Return to top