Walk:
Parbold, Fairy Glen, Boar's Den, Harrock Hill, Hunter's Hill
Start Point:
Parbold Village Hall
Grid Ref:
SD 490 109
Distance:
7.6 miles
Ascent:
580 feet
Weather:
Misty at the start but clearing to a pleasant sunny day
Accompanied by:

On my own

Comments:
A frosty morning with a heavy mist looked like it could develop into a fine day and I wasn't to be disappointed. Walking through a number of fields I eventually reached Fairy Glen where the remaining mist added an air of mystery. This was a pleasant area where the sun filtered through the trees, creating areas of light and shade, and played on the waterfalls causing the water to sparkle. After crossing the main road I reached the burial mound labelled as Boar's Den on the OS map. Continuing from here the route took me past more woodland in the grounds of Harrock Hall, and on to the highest point of the walk. However, with the trig point firmly set behind secure gates this was something of a disappointment. It was then a short walk to the ruins of the windmill on the summit of Harrock Hill. The path from here made its way through gorse which was just beginning to come into flower. A stretch along Bannister Lane brought me to Hunter's Hill where a bench was conveniently placed for a lunch time stop. It was then a relatively short walk back into Parbold, where I detoured to do a little exploring before I returned to the car.
Scroll down to see photos of the walk
Crossing the stream in Fairy Glen . . .
the early morning mist still hovers in the trees . . .
but the sun creates patterns of light and shade
Shame they haven't included a map of the paths in the glen
More opportunities for a photo . . .
as I make my way along the footpath . . .
and over another bridge
Interesting tree root system
Waterfalls create . . .
added interest . . .
at the more northern end of the glen
Boar's Den is an ancient barrow or or burial ground
Boar's Den Farm looks to be a completed refurbishment
A diversion to the highest point is a disappointment . . .
as the trig point is behind a secure fence
The ruins of an old windmill . . .
mark the top of Harrock Hill
From the disused quarry path at Hunter's Hill . . .
the surrounding area is markedly flat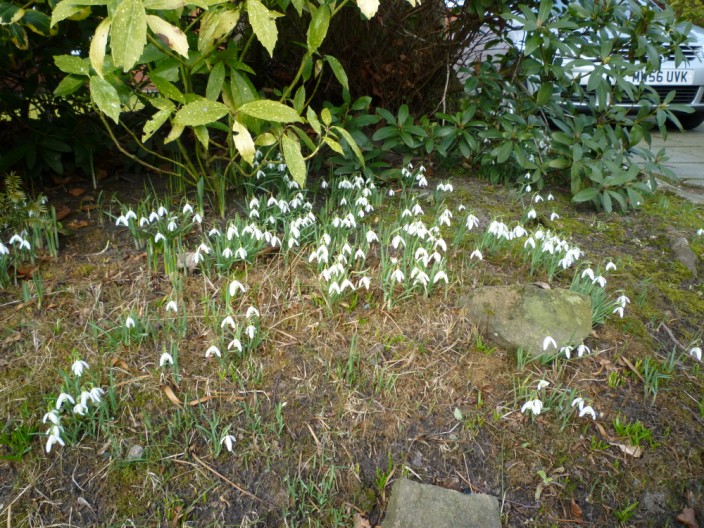 Snowdrops are finally in bloom - about a month late
Exploring near the canal . . .
where the housing development looks relatively recent . . .
and the windmill has changed its function . . .
to a gallery
Return to 2010 Diary Return to top