Walk:
Malham Tarn, Arncliffe, Hawkswick Cote, Cote Gill, Street Gate
Start Point:
Water Sinks car park
Grid Ref:
SD 894 657
Distance:
12.5 miles
Ascent:
1,900 feet
Weather:
A dry day but a very cold northerly wind
Accompanied by:

Karen and Sheila

Comments:
With a dry day forecast we were hoping for fine weather and perhaps a hint of sun. When we reached the car park we were surprised at how cold the northerly wind was and were glad that we had a selection of warm clothes in the car. Setting out into the wind we made our way past Malham Tarn, up to Middle House Farm and onto the Monks' Road. Evidently this route was used by monks in Medieval Times and, in the 19th century, by Charles Kingsley, who was inspired by this area to write The Water Babies. From this point we did become rather fragmented as my pace is a little slower! Dropping down into Arncliffe we walked past the village green which was surrounded by buildings full of character, and a converted barn, dated 1677, with an unusual entrance. Arncliffe was the original setting for the fictional village of Beckindale in the ITV soap opera Emmerdale Farm. After passing the school we walked alongside the River Skirfare to the iron bridge. From here we turned south-west and began the climb over the limestone pastures. A slight detour to Cote Gill revealed a completely dry river bed with a limestone slab that must create a waterfall in the wetter months. Continuing across the pastures made our way down to Street Gate and along the road to the car.
Scroll down to see photos of the walk
After walking past Malham Tarn . . .
we start to climb . . .
up to the limestone pastures
Cowside Gill on the left leads into . . .
Littondale and . . .
to Arncliffe on the River Skirfare
Our elevenses spot gives a good view of Littondale
A spring (marked on the map) emerges from under the wall . . .
as we follow the lane into Arncliffe . . .
past an interesting house . . .
which, unfortunately has no date
The large village green . . .
is surrounded by interesting houses . . .
and a barn conversion (dated 1677) . . .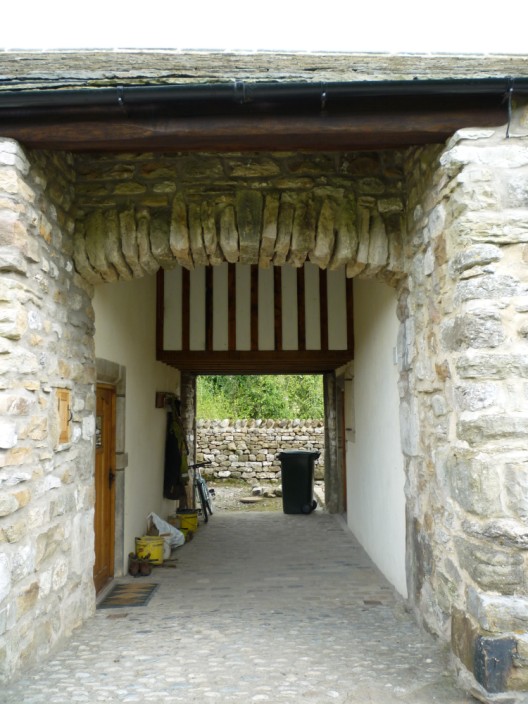 with an unusual entrance
Karen and Sheila try out the stocks
St Oswald's Church, built in the 16th century but with a tower retained from the 15th century
The River Skirfare . . .
with a good example . . .
of meander erosion
Spring is bursting out - - - -
The iron bridge leading to Hawkswick
A waterless Cote Gill . . .
which must, surely, sport a waterfall in wetter times
Signs of past activity
Karen and Sheila lead the way, with Pendle just visible to the left
Return to 2010 Diary Return to top