Walk:
Hartsop, Gray Crag, Thornthwaite Crag, High Street, The Knott, Rest Dodd, Brock Crags, Angletarn Pikes, Boredale Hause
Start Point:
Hartsop car park
Grid Ref:
NY 409 130
Distance:
10.7 miles
Ascent:
3,630 feet
Weather:
Mainly dry and sunny with a cold wind
Accompanied by:

6 members of the group

Comments:
This is one of my favourite walking areas but you have to arrive quite early as the car park is very popular - being the starting point for a number of different walks. The steep climb to Gray Crag soon warms you up and a pleasant ridge takes you across to Thornthwaite Crag, which is also the junction of a number of different paths. Taking the higher path to High Street gives time to ponder on the activities of the past - markets and horse racing, which gives rise to the name 'Racecourse Hill'. Passing the great views of Haweswater and Riggindale (amongst others) the route makes its way up the short climb to The Knott, which has a much longer descent on the northern side. With good weather and an energetic group we continued on to Rest Dodd from where we had a 360 degree view of over 20 Wainwright summits. A gentle stroll brought us down to Satura Crag where a sheltered spot was the ideal place for lunch - and thoughts of hot summer days! However, a short rain shower accompanied us across to Brock Crags from where we took the lesser known path to the east of Angle Tarn. A short climb up the first of the Angletarn Pikes was met with some surprise when it was known that the Wainwright was actually on the northern of the two 'Pikes'. From here a pleasant grassy route took us to Boredale Hause and a stroll along the track to Hartsop, taking in the higher path through the woods on the way!
Scroll down to see photos of the walk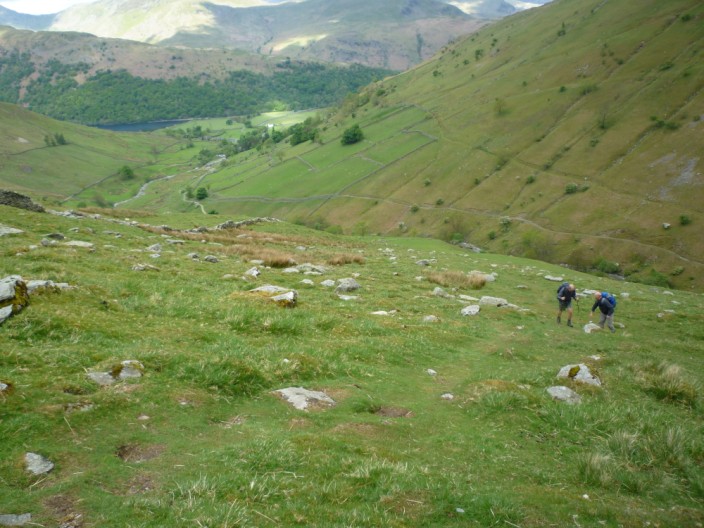 A steep path takes us up the nose of Gray Crag . . .
with views of Hayeswater and The Knott . . .
and the group is pleased to reach the summit
The ridge gives views across to Windermere . . .
before reaching a sunny Thornthwaite Crag
Heading across to High Street - with a different view of The Knott and Hayeswater
High Street summit . . .
and views down Riggindale to Haweswater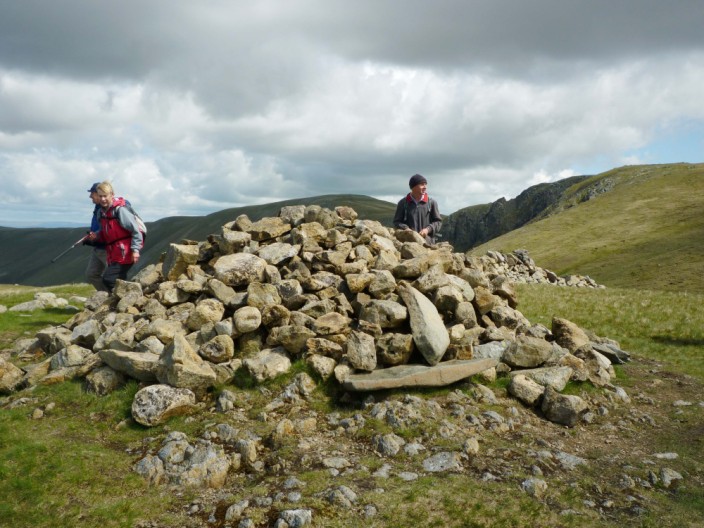 From The Knott . . .
we can see our next summit, Rest Dodd . . .
and look back to Thornthwaite Crag
Another climb brings us to Rest Dodd . . .
where John enjoys a 'Rest', and Ullswater can be seen in the distance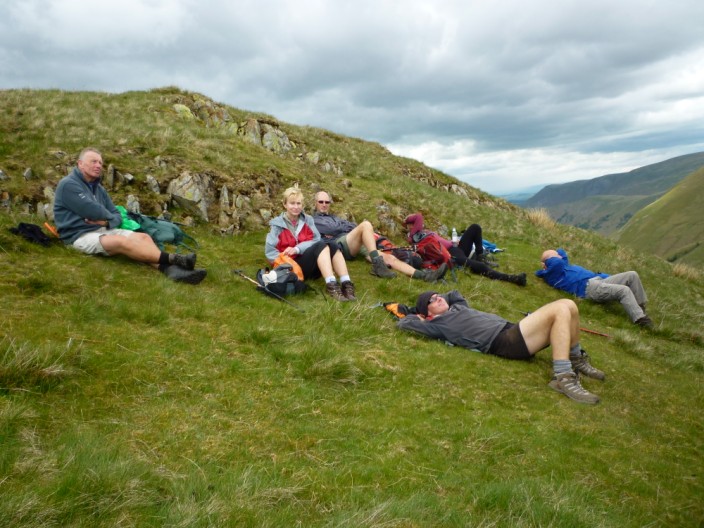 A sheltered spot - and some of the men take 'forty winks'
Brock Crags is a rather windy spot . . .
and we quickly move on to Angletarn Pikes, where the southern summit looks over Angle Tarn . . .
while from the northern summit we can see Brothers Water . . .
Glenridding and Ullswater . . .
and Place Fell
The steep path from Boredale Hause is an unpleasant stony affair . . .
but it does give an even better view of Glenridding and Ullswater
Return to 2010 Diary Return to top