Walk:
Downham, Worsaw End, Worston Moor, Scout Cairn, Pendle Hill, Barley, Black Moss Reservoirs, Twiston Moor, Twiston, Downham Mill
Start Point:
Downham car park
Grid Ref:
SD 784 440
Distance:
12 miles
Ascent:
1,970 feet
Weather:
Misty in the valley but clear and sunny for most of the walk
Accompanied by:

On my own

Comments:
It was rather a disappointing start as there was a heavy mist. However, by the time I was half way up the side of Pendle Hill I had climbed out of the mist into clear sunshine. The views were good as I walked up to the trig point where I stopped for elevenses. After heading down to Barley I turned to walk past the reservoirs to Lower Black Moss. Turning off the track to Mountain Farm I had to cross a very muddy field and will change the route here in future. Twiston Moor provided a good spot for lunch before continuing on to Twiston, which is just a small group of houses - and a telephone box and post box! From here the route took me through pasture land and over streams to pass Downham Mill on the way back to Downham.
Scroll down to see photos of the walk
At this point I was wondering how extensive the mist was . . .
but I soon found that it was just in the valley . . .
as I climbed up the side of Pendle Hill . . .
and took advantage of some interesting viewpoints . . .
with the mist creeping into side valleys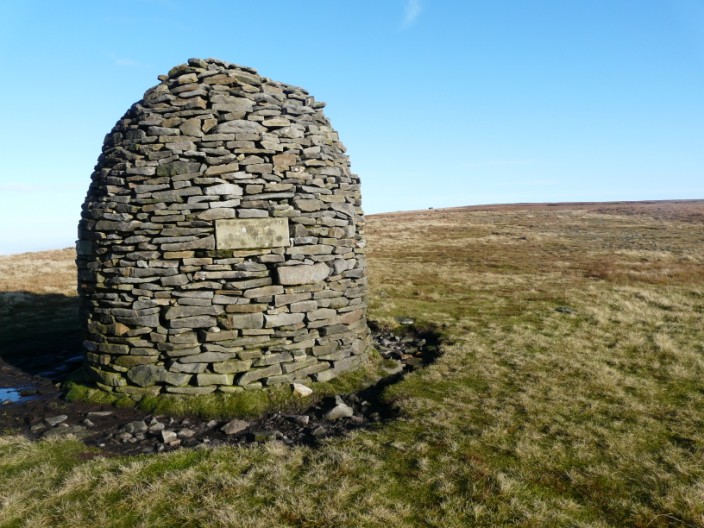 From the Scout Cairn the shelter can just be seen in the distance . . .
and it was pretty quiet at the summit
Black Moss Reservoirs
Two horses with little sense - there is a huge field just the other side of the stream!
Lower Black Moss Reservoir . . .
with some stunning reflections
From Twiston Moor the mist creeps up a gully at the foot of Pendle Hill
Cottages in Twiston
With the sun low in the sky there is some interesting light and shade
Passing Longlands Wood the sun . . .
highlights some nearby trees
The mist has started to creep over Pendle Hill as I arrive back in Downham
Return to 2010 Diary Return to top