Walk:
Mossdale Beck, Glenridding Dodd, Sheffield Pike, White Stones, Stybarrow Dodd, Raise, Glenridding Valley
Start Point:
Stybarrow Crag
Grid Ref:
NY 387 178
Distance:
10.2 miles
Ascent:
3,050 feet
Weather:
Misty on the high fells with snow showers
Accompanied by:

4 members of the group

Comments:
Leaving the car park we immediately start to climb up beside Mossdale Beck until we reach the hause and take a left turn onto Glenridding Dodd. Our climb up to Sheffield Pike soon reveals a light covering of snow - and a heavy mist. It is fortunate that Ray knows this route well as we can see little to aid navigation on our way to White Stones and Stybarrow Dodd. By this time the snow on the ground is deeper and would be quite picturesque on a clear day! However, the mist stays with us as we move on to Raise before deciding that Swirral Edge is best left till another day, and we make our way down the Glenridding Valley. By the time we get to the bottom of the zig-zags the ground is clear but there are still snow flurries around. Continuing down the valley we skirt Glenridding to head back to the car - in light rain!!!
Scroll down to see photos of the walk
A pause as we reach the hause between Glenridding Dodd and Sheffield Pike
Ullswater from Glenridding Dodd . . .
and Glenridding in the opposite direction
Looking up to Helvellyn . . . .
as we climb up Sheffield Pike . . .
and looking back down to Glenridding Dodd and Ullswater
On Sheffield Pike . . .
we are in mist . . .
as we find a sheltered spot for elevenses
Mist and snow at White Stones . . .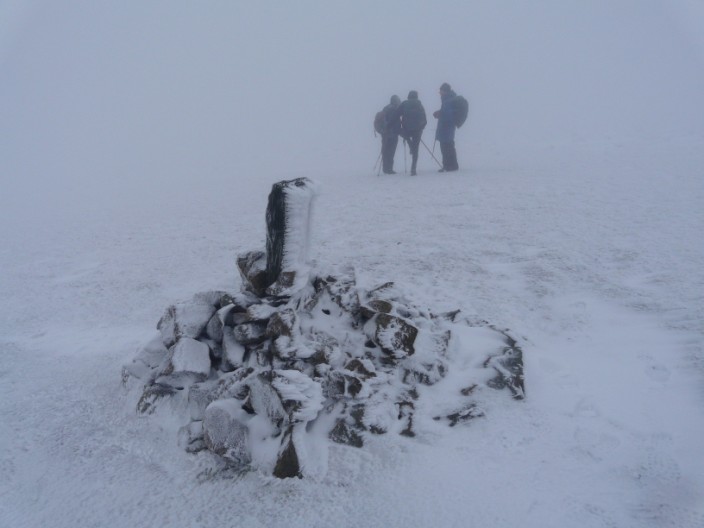 and at Stybarrow Dodd . . .
where there is a build-up of snow . . .
on the rocks . . .
caused by the wind
Even the grass . . .
has its own build up of snow
Checking the route at Raise . . .
before heading down the Glenridding Valley path - where it is still snowing
The weir near the disused mine . . .
as the bridge takes us across . . .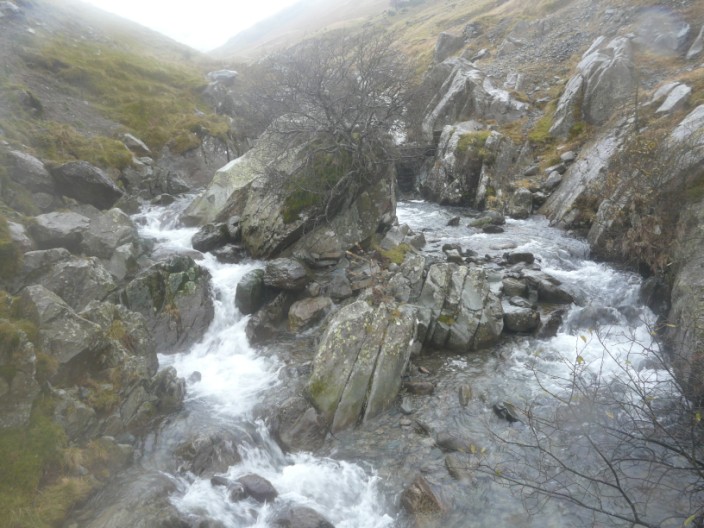 Glenridding Beck
Almost back to Glenridding, looking up to Glenridding Dodd . . .
and Sheffield Pike
Return to 2010 Diary Return to top