Walk:
Fell Foot, Bleasdale School, Stang Yule, Hazelhurst Fell, Fiendsdale Head, Home House Fell, Fair Snape Fell, Wolf Fell, Saddle End
Start Point:
Fell Foot road
Grid Ref:
SD 601 442
Distance:
13.2 mls
Ascent:
1,880 ft
Weather:
A clear and sunny autumn day with a cold wind in exposed places
Accompanied by:

4 members of the group

Comments:
Four members joined the leader on a pleasant walk with gradual ascents and descents. Despite the wet weather of the previous week the 'boggy' areas were passable without too much trouble. After walking through the fields, past Bleasdale School and St Eadmer's Church we joined the minor road just before the packhorse bridge. Great views were to be had to the south after passing Fell End and a few renegade pheasant could be spotted in Fell Plantation. Our route then took us above the plantation with even better views across to the Lakeland Fells with the Isle of Man just visible beyond the wind farm. A break was taken for morning coffee before we left the stony track to head across moorland to the trig point on Hazelhurst Fell. Continuing on Ian took us on a short detour to visit the site of a plane crash in 1944. A 'juicy' track led us across to Fiendsdale Head where we regrouped for a photo before heading off on an 'expedition' across Home House Fell - a much more interesting (pathless) route than following the fence line, and leading directly to Fair Snape Fell where we stopped for lunch. Heading across to Wolf Fell our intrepid explorers detoured to take in the cairn at the highest point - surrounded by soggy peat!! It was then a pleasant (and dry) walk across Wolf Fell and down to Saddle End. From here we turned west to walk past Wolfen Hall and back to the cars.
Scroll down to see photos of the walk
A wall stile with a difference
Blindhurst Farm - with rather muddy access
Time to take a layer off . . .
as we make our way across to Bleasdale . . .
past Brooks Packhorse Bridge . . .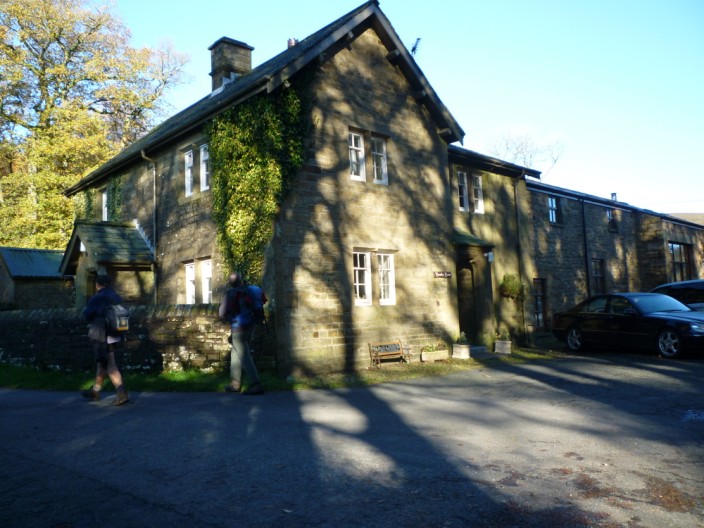 and Brooks Barn
Only a few pheasant still in the woods
Looking north-west over Oakenclough Fell . . .
to Black Combe
A grassy spot for a coffee break, with Fair Snape Fell to the left and Parlick to the right
Ross takes in the views from above . . .
but we stick to ground level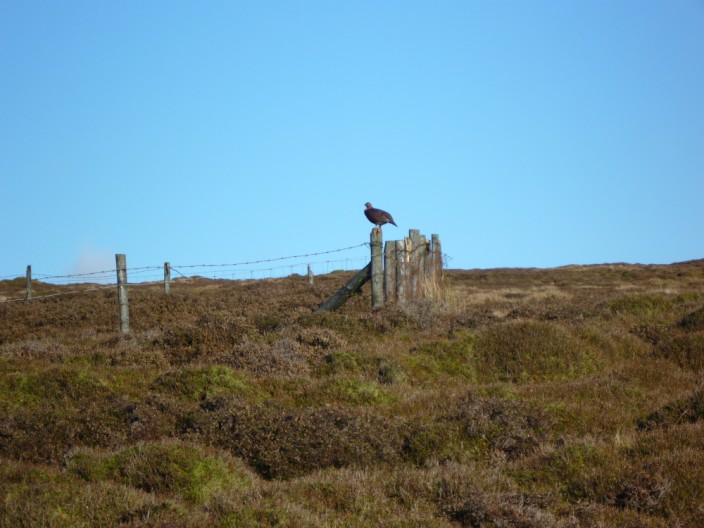 A grouse takes its chances . . .
on an exposed post . . .
close to the grouse butts
Ian takes us on a detour to a plane wreckage . . .
where items have been left in place . . .
out of respect
A single stone guides us across a boggy section . . .
to Fiendsdale Head
A little colour as we cross Home House Fell . . .
and check the views down to Bleasdale
I wonder how long it has taken for this amount of erosion?
Fair Snape Fell trig point and Paddy's Pole (cairn)
This cairn marks the highest point on the fell
Descending from Wolf Fell the sun catches the base . . .
of Parlick
A pleasant green path leads past . . .
a colourful wood . . .
where a beech tree sports its autumn dress
A paraglider takes the easy route back to the car
Return to 2010 Diary Return to top