Walk:
Seathwaite, Combe Gill, Bessyboot, Rosthwaite Fell, Glaramara, Allen Crags, Sprinkling Tarn, Seathwaite Fell, Stockley Bridge
Start Point:
Seathwaite
Grid Ref:
NY 235 123
Distance:
10.2 miles
Ascent:
3,540 feet
Weather:
Dry and sunny but very cold in the wind
Accompanied by:

3 members of the group and 2 visitors

Comments:
With a dry, clear day forecast the views turned out to be magnificent and the temperature ranged from being almost balmy in sheltered sunny spots to bone numbing cold when we met the strong northerly wind in the shade of Great End! The climb to Bessyboot was as strenuous as ever but from here it was easier going until we reached the scramble onto Glaramara. Being in the shade, there were a few icy patches around and careful choice of route was needed. Looking across to Allen Crags there didn't seem to be much more of a climb - until we had descended to High House Tarn! After lunching on Allen Crags we made our way down to Sprinkling Tarn, meeting the full force of the wind on the way. Passing to the right of Sprinkling Tarn we soon found the summit cairn of Seathwaite Fell. Heading to the west of Aaron Crags we descended by way of a gully to pick up the Styhead Gill path. It was then an easy descent to Stockley Bridge and back to the car.
Scroll down to see photos of the walk
A frosty start to the day . . .
as we climb up Rottenstone Gill, with Skiddaw in the distance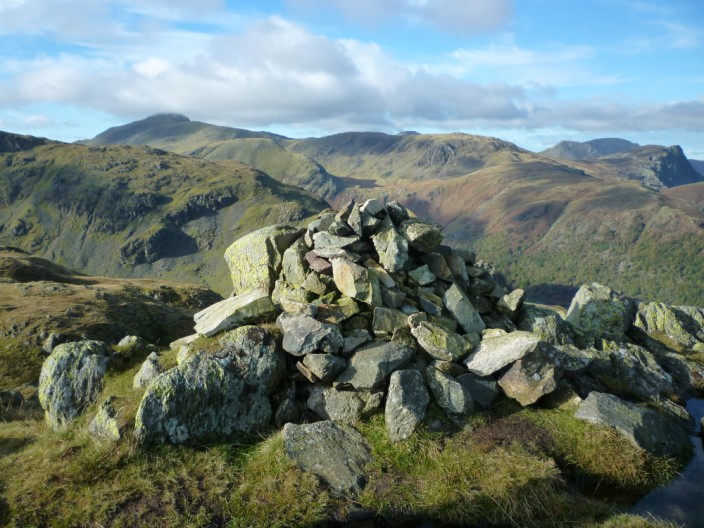 From Bessyboot, the cloud is just touching Great Gable on the left with High Crag and High Stile on the right
The rocky face of Glaramara beckons . . .
but first the scramble must be navigated
From the summit we have a good view north, down the Borrowdale Valley, over Derwent Water to Skiddaw and its surrounding fells . . .
and to the west Great Gable, Pillar and High Crag are the highest points amongst a number of fells that could be named from here
And to the north-west we see the Dale Head Ridge and Grasmoor to the left with Grisedale Pike popping up in the distance
Glaramara main summit from the second cairn (lower - but not by much)
High House Tarn with the Langdale Fells in the distance . . .
and zooming in
Allen Crags (or is it Balanced Rock?) . . .
with the larger cairn nearby
The Langdale Fells and Windermere from Allen Crags . . .
and turning to the south, Bow Fell on the left and Esk Pike on the right
Heading down to . . .
Sprinkling Tarn, with Great Gable and Green Gable on the left
From Seathwaite Fell we can see down . . .
to the cars . . .
but it's a long way down . . .
even after we've already descended a fair way . . .
but the path is getting closer!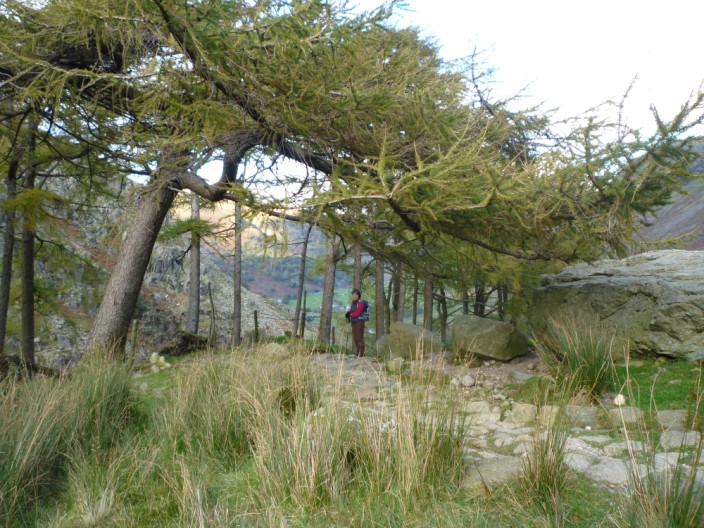 Karen enjoys the pleasure of the amazing tree canopy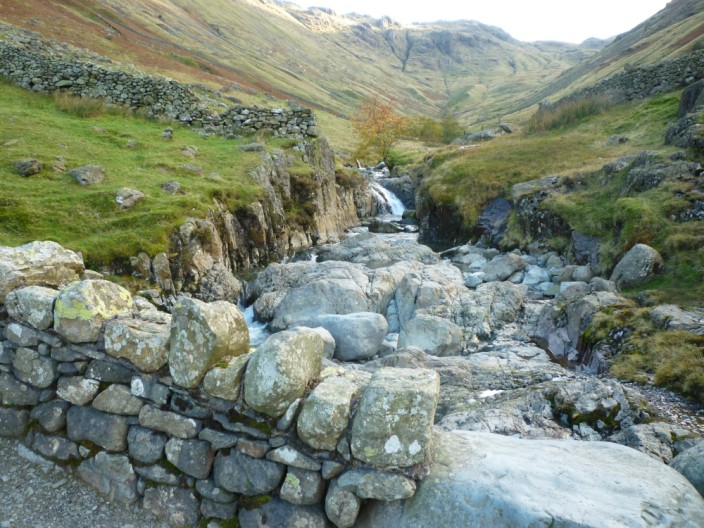 Stockley Bridge - and just an easy stroll to the cars now
Return to 2010 Diary Return to top