Walk:
White Coppice, Great Hill, Winter Hill, Two Lads Hill, Rivington Pike, Rivington Hall Barn, Yarrow Reservoir, Anglezarke Reservoir
Start Point:
White Coppice
Grid Ref:
SD 619 190
Distance:
13 miles
Ascent:
1,650 feet
Weather:
Mainly dry but dull
Accompanied by:

Four members of the group and two visitors

Comments:
A local walk was on the agenda on a dull, but only slightly damp day. We soon warmed up on the climb to Great Hill but had to take care on the paved section of Spitlers Edge where the stone flags were rather greasy. We were pleased that Karen took the 'less boggy' route from the Belmont Road to Winters Hill and on to the Two Lads cairns (though there are three cairns at this point). After descending to Pike Cottage we made our way to Rivington Pike, followed by another descent - to Rivington Village via Rivington Hall Barn. From here fields, track and tarmac road took us past Yarrow, Anglezarke and High Bullough reservoirs, back to the car park.
Scroll down to see photos of the walk
Preparing for the start at White Coppice Cricket Club car park
Standing the test of time!
The one in shorts is a jogger - not one of our party!
Great Hill - but too soon for a stop . . .
so we carry on along Spitlers Edge . . .
to Winter Hill
where Scotsman's Stump commemorates the murder of George Henderson in 1838 . . .
and a new sign reminds us of one of several air disasters around Winter Hill
For those who like facts and figures
Two Lads - the cairns on Wilders Moor where two young men supposedly went missing mysteriously in the early 20th century
Looking over Pike Cottage garden to Rivington Pike . . .
and the front of the cottage which is a 'dog hotel'
A wide stony path leads to . . .
Rivington Pike . . .
and time for a group photo
Descending via the Pigeon Tower . . .
to take in the autumnal views . . .
as we eat our lunch
Rivington Village Green
More Autumn colours as we follow the route past the reservoirs . . .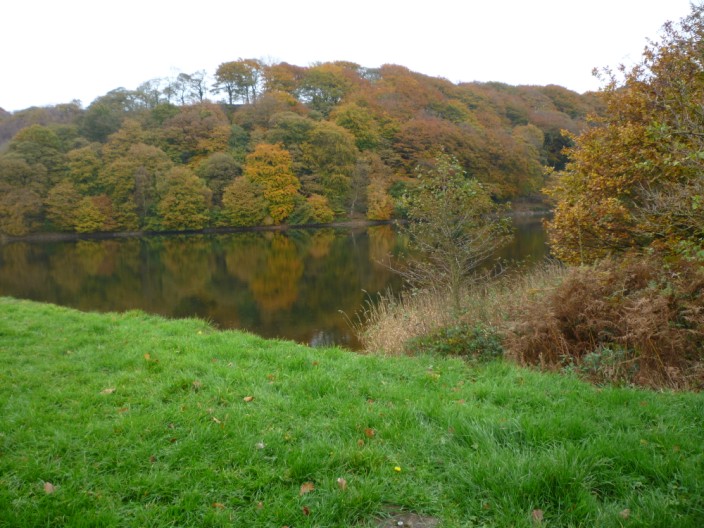 and their reflections
Return to 2010 Diary Return to top