Wednesday, 31st August 2011
Walk:
Rawthey Bridge, Uldale Force, Harter Fell, Wandale Hill, Narthwaite
Start Point:
Lay-by near Rawthey Bridge
Grid Ref:
SD 712 978
Distance:
13 miles
Ascent:
2,484 feet
Weather:
Overcast but mild
Accompanied by:

On my own

Comments:
After following the River Rawthey to Uldale Force I decided to explore further upriver rather than retracing my steps to get onto the opposite bank. After about half a mile I decided to take my boots off and wade across! Returning along the opposite side I made my way past Uldale House and across to Murthwaite Rigg. From here I couldn't resist the pull of Harter Fell and decided to include it in the walk. From the summit I headed west to Stonely Gill and bypassed Adamthwaite, eventually leaving the path to head up onto Wandale Hill. A single rock marked the summit from where a path led down the nose. Dropping down the side of the fell to Wandale ruin the path deteriorated and became rather muddy and rough. After passing through Narthwaite the path then turned north-east to head back to Rawthey Bridge and the car. A good day's walking but somewhat wet and muddy underfoot.
Scroll down to see photos of the walk
Looking across to Cautley Crags from the climb from Rawthey Bridge
The waterfalls start off small . . .
but gradually increase in size
The bridge over the River Rawthey . . .
but I carry on upstream . . .
to pass more waterfalls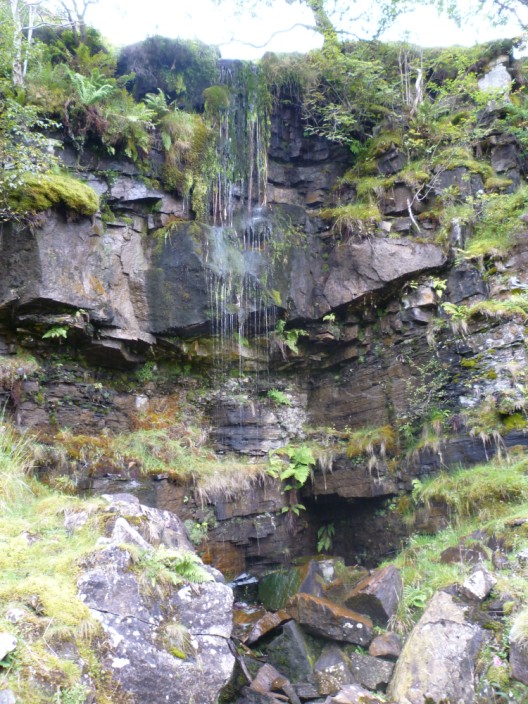 The sound of water to my right reveals a rocky outcrop . . .
before I get a first glimpse of Uldale Force . . .
in a disused quarry . . .
and looking quite impressive
Uldale House - as I return down the opposite side of the river.
Looking North to the Howgills . . .
Cautley Crags are in view again
This 'mother in waiting' walked towards me with a very determined step . . .
but her attentions were focussed further along the road
The foal stopped for a brief look . . .
but soon carried on its way
Harter Fell wasn't on the planned route - but it looked very inviting
as did Wandale Hill
A very long, narrow field - or a wide green road?
A few stones mark the summit of Harter Fell, looking north-west . . .
and south-east over Wandale Hill and the Howgills
Just the view for a timed photo
From Wandale Hill the line of Rawthey River is marked by trees . . .
but the summit leaves a little to be desired, looking south-east . . .
or north-west to Harter Fell
I think I need a tripod!
Wandale ruin on the descent