Wednesday, 3rd August 2011
Walk:
Nick of Pendle, Scout Cairn, Pendle Hill, Barley, Lower Ogden Reservoir, Spence Moor, Deer Stones
Start Point:
Nick of Pendle
Grid Ref:
SD 771 385
Distance:
10.6 miles
Ascent:
1,560 feet
Weather:
Overcast with some sunny spells
Accompanied by:

On my own

Comments:
With a good day forecast I headed to Sabden for an easy walk to the Scout Cairn, Pendle Hill summit and back via Barley, Lower Ogden Reservoir and Spence Moor. The route was pretty quiet today until I was heading into Barley, where a few people where on their way to the summit. I remembered Spence Moor as being quite boggy and it was no different today, despite it being the middle of summer. Returning to the car I was treated to a meeting with two wolves. Commenting on the two 'dogs' a passing gentleman had on leads I was informed that they were, in fact, wolves. They were absolutely beautiful and enjoyed being stroked.
Scroll down to see photos of the walk
Looking back to start, just above centre of picture
The Scout Cairn is my first target . . .
followed by the shelter
A dragonfly seems to stuck in the grass, but soon flies free
Only a couple of people on the summit today . . .
but more are on their way up the 'tourist track'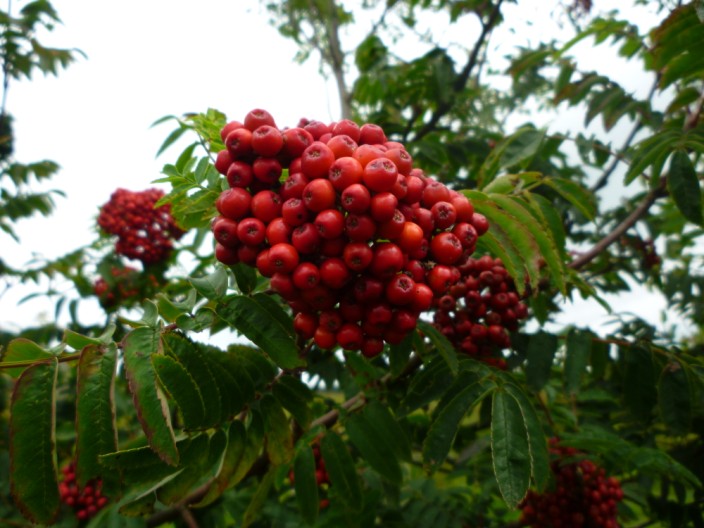 A good crop of Rowan Berries
The Pendle Inn, in the centre of Barley
Lower Ogden Reservoir with Pendle Hill in the distance
Churn Clough Reservoir from Deerstones
Looking back to Deerstones
Churn Clough Reservoir