Monday, 3rd January 2011
Walk:
Clapham, Trow Gill, Little Ingleborough, Ingleborough, Sulber, Norber
Start Point:
Clapham, riverside
Grid Ref:
SD 745 691
Distance:
12 miles
Ascent:
2,300 feet
Weather:
Dry but cold
Accompanied by:

On my own

Comments:
With poor weather restricting walking over Christmas I was anxious to get a bit of climbing under the belt and Ingleborough provided just that. After a brisk walk up Trow Gill and on to the summit, the shelter was just the spot for a late morning coffee. Not the weather to dawdle, I was soon on my way to Sulber where I stopped for lunch. From here I headed to Norber instead of going directly to Clapham (a section for a future walk needed to be reccied). After wandering through the rocks known as The Norber Erratics it was an easy stretch along the bridleway back to Clapham.
Scroll down to see photos of the walk
Clapham Beck waterfall
Walking through Ingleborough Estate Nature Reserve, The Grotto was built to provide shelter for anyone wishing to admire the limestone scars opposite . . .
and to provide employment in a time of recession in the early 19th century
The route passes the show cave , , ,
and crosses Beck Head Bridge
Heading up Trow Gill . . .
an 'Ice Waterfall' adorns one side . . .
and an 'Ice Grotto' plays its part on the opposite side
The narrow gully signals the top of the gill
Little Ingleborough in the foreground with Ingleborough behind . . .
and looking back down from Little Ingleborough
It's pretty quiet on the summit today
Great Whernside . . .
and Ribble Head viaduct
The path down the east side . . .
has one or two obstacles to navigate
Looking back to Ingleborough from Simon Breast Fell
'Twin' stiles
Pen-y-Ghent with Fountains Fell to the right
An 'ice shelf'
A lone tree graces the limestone pavement
The crossroads is an ideal place for lunch overlooking Pen-y-Ghent . . .
and the sign post ensures I head off in the right direction
Moughton Scars . . .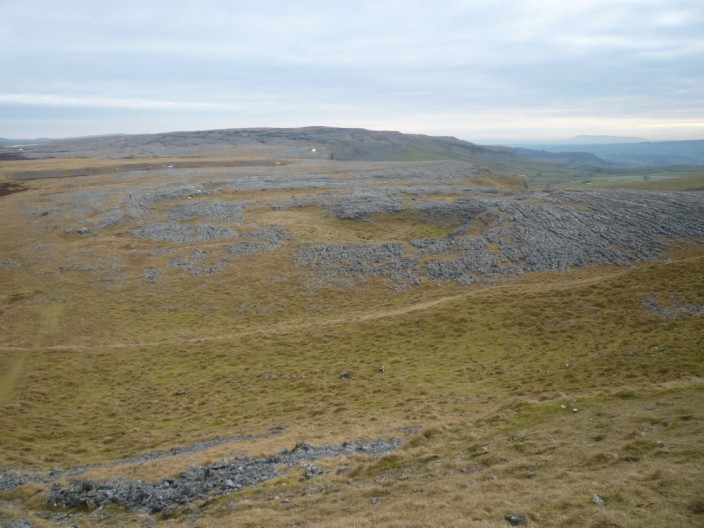 with their vast limestone pavement
Pen-y-Ghent enjoys a spot of sun
One of the Norber erratics . . .
and is this 'the pig's head'?
A cantilevered rock points the way back
Robin Proctor Scars with Norber to the right