Sunday, 13th March 2011
Walk:
Helwith Bridge, Long Lane, Pen-y-Ghent, Pennine Way, Hull Pot, Horton Moor, Horton-in-Ribblesdale, Ribble Way
Start Point:
Helwith Bridge
Grid Ref:
SD 814 696
Distance:
9.5 miles
Ascent:
2,256 feet
Weather:
A dry day with sunny spells and a cold wind on the summit
Accompanied by:

Beth

Comments:
Long Lane leads gradually to the foot of Pen-y-Ghent and there are some good views over Ribble Valley on the way. The rocky steps climb to the more serious stuff - a rocky scramble to the top of the fell. A group of teenagers (probably doing the Duke of Edinburgh's Award) were gathered around the summit trig point, but they soon moved away and we were able to enjoy our lunch in peace. Crossing the stile to follow the Pennine Way we met a very cold wind - so it was on with all the warm gear! A short detour took us to Hull Pot with its impressive waterfall before following the track to Horton-in-Ribblesdale. Another short detour enabled us to visit the cafe for a couple of hot chocolates before following the Ribble Way back to Helwith Bridge.
Scroll down to see photos of the walk
Heading up Long Lane . . .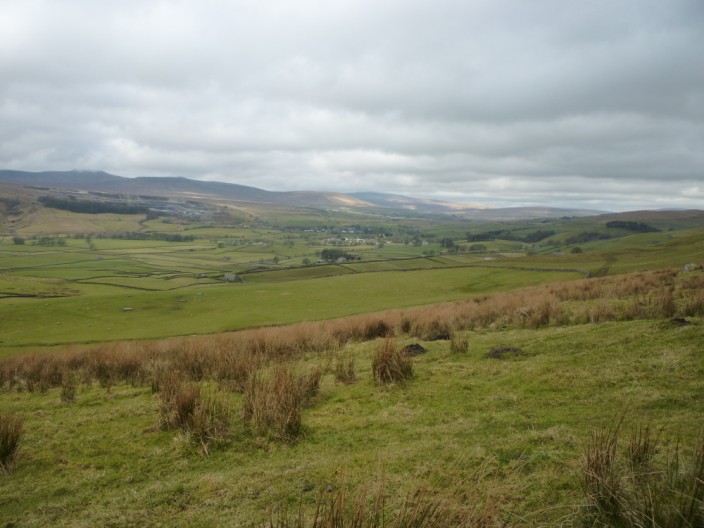 we look across the Ribble Valley, with cloud just touching Ingleborough on the left
The sun highlights Pen-y-Ghent . . .
and Beth finds a rock she needs a photo of!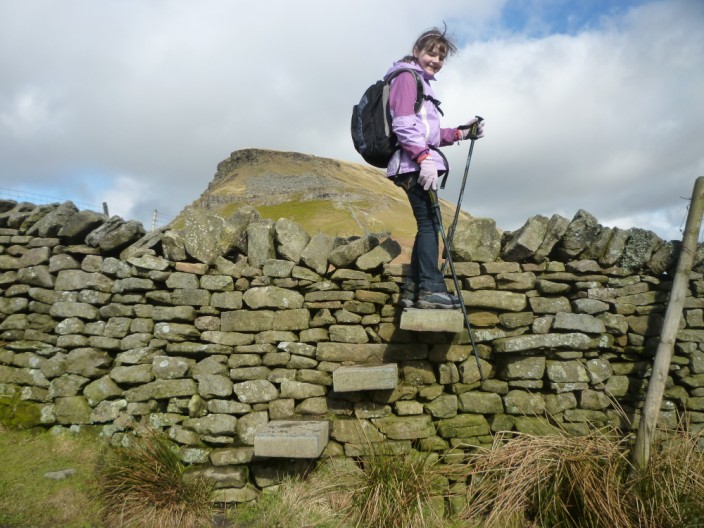 The summit looms behind the wall
The rocky steps lead up to the scramble and the summit . . .
and Beth is really enjoying this section
I'm not quite tall enough!!!!
And this side is no better . . .
so I'll try one with Grandma
Bandits on the loose!!
A 'rockface' is spotted on the descent . . .
and we leave the summit far behind . . .
crossing yet another ladder stile
Hull Pot Beck flows into . . .
Hull Pot . . .
a BIG HOLE!
Mum keeps an eye on us . . .
but these decide to move away . . .
to join the rest of the bunch
A sunny walk along the Ribble Way . . .
takes us past some impressive 'treelines'
He seems quite friendly
Reflections - in the water and on our climb up Pen-y-Ghent in the distance