Sunday, 8th May 2011
Walk:
Clapham, Norber Erratics, Sulber Gate, Sulber Nick, Wharfe, Feizor, Austwick, Clapham
Start Point:
Riverside, Clapham
Grid Ref:
SD 745 692
Distance:
13.5 miles
Ascent:
1,970 feet
Weather:
Overcast with sunny spells and a brief shower
Accompanied by:

10 members of the group

Comments:
Leaving Clapham by the tunnels at Encombe Bridge we soon found ourselves amongst the boulders known as the Norber Erratics. A short climb then took us onto a lovely green path as we made our way to Sulber Gate and took in the views over Moughton Scars. Braving a strong wind we crossed the top of the valley to find an easy route down into Crummack Dale. Heading towards Wharfe we decided that the improvement in the weather called for a detour through Feizor before making our way back to Clapham. With the soft springy turf underfoot it was a pleasant walk across the fields, though the kissing gates did provide extra obstacles!
Scroll down to see photos of the walk
Walking along Thwaite Lane, Robin Proctor's Scar comes into view
Meandering through the erratics . . .
we find a huge rock . . .
balanced on a small limestone plinth
Leaving the boulder field behind we make our way to . . .
Sulber Gate where a rocky outcrop provides a good array of seats for our coffee stop
Two people can be seen crossing the limestone pavement . . .
as we walk at a higher level with Pen-y-Ghent catching the sun
Heading towards Crummack Dale the cloud descends . . .
over Ingleborough and Simon Fell . . .
and Ian detours to check out the cairn
A rock feature graces the face of the escarpment . . .
but loses its shape as we draw near
Heading down the track we are surprised to meet the Moderate group heading in the opposite direction . . .
but they decide not to join us for lunch!
Three hares are spotted chasing around the field
Passing the appropriately named 'White House'
we make our way to Feizor . . .
where a garden sports an interesting 'water feature'
Yet another feature . . .
where Ian and Phil hope for tea!!
Nearing Wood Lane and the Erratics can be seen littering the field . . .
while bluebells grace the bridge into Austwick . . .
and wild garlic is in full bloom
Phil squeezes through the kissing gate . . .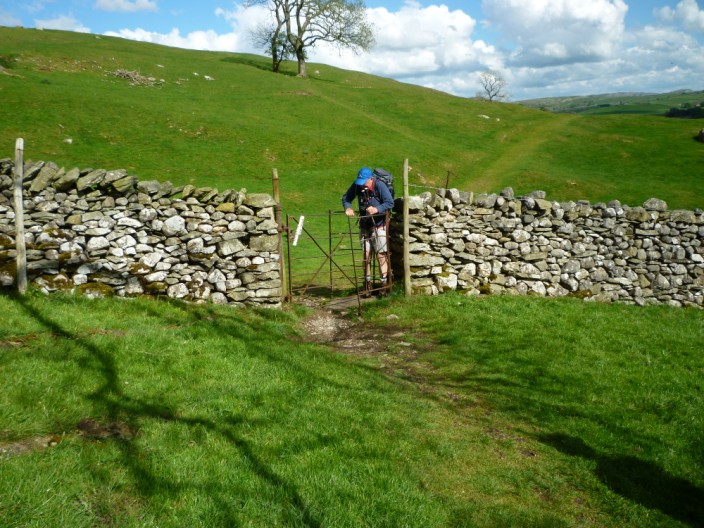 followed by Eric . . .
but a new tactic is applied at the next gate
Milking time