Sunday, 27th November 2011
Walk:
Solomon's Temple, Roddlesworth Reservoir, Tockholes Plantation, Great Hill, Round Loaf, Black Hill Lower, Pike Stones, Anglezarke Reservoir
Start Point:
White Coppice cricket club car park
Grid Ref:
SD 619 190
Distance:
12 miles
Ascent:
1,700 feet
Weather:
Mild with sun in the afternoon, windy in exposed places
Accompanied by:

11 members of the group and 5 visitors

Comments:
A larger number of group members and visitors joined me for this walk. A visit to Solomon's Temple was followed by a trek acorss the northern edge of Withnell Moor and across the main road to Roddlesworth reservoir. A clear route was followed through the delightful woodland before taking the path into Tockholes Plantation and across the River Roddlesworth. Crossing the main road again we took the route past Pimms to Great Hill. After a short section on the flagged path we heading across Anglezarke Moor to Round Loaf, Black Hill Lower and on to the Pike Stones. A steep path took us down to High Bullough Reservoir from where we followed the route past Anglezarke Reservoir and on to White Coppice. The group enjoyed the walk which included some of the history of the area.
Scroll down to see photos of the walk
Coffee stop at Solomon's Temple
Crossing Rake Brook
Roddlesworth Reservoir
We just need a bit of sun to brighten the trees
River Roddlesworth
The sun has made an appearance at last
The 'bird tree'
River Roddlesworth (again)
Navigating the boggy bits on the way to . . .
the ruins at Pimms . . .
where we stop for lunch
Continuing on to . . .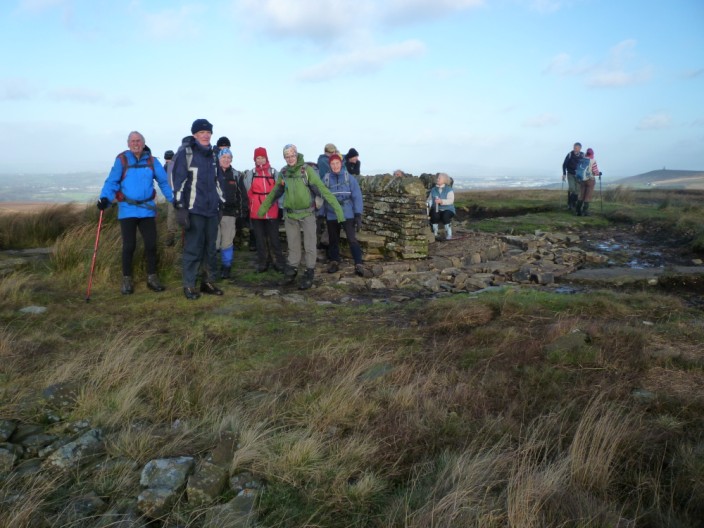 Great Hill . . .
and Round Loaf
Descending to Limestone Clough
The Pike Stones - on the right . . .
and time to read up about the Pike Stones as the group queues up to cross the stile
Some of the group are intent on avoiding the mud . . .
but Ray shows that it really isn't as bad as it looks!