Sunday, 16th October 2011
Walk:
Ribblehead, Park Fell, Simon Fell, Ingleborough, Sulber Crossroads, Selside, Selside Shaw
Start Point:
Ribblehead
Grid Ref:
SD 765 792
Distance:
12.7 miles
Ascent:
2,174 feet
Weather:
Drizzle and low cloud clearing to brighter skies in the afternoon
Accompanied by:

8 members of the group and 1 visitor

Comments:
Setting out in light drizzle and heading towards low cloud we weren't hoping for great views! After a short road walk we took the track to Colt Park and climbed the steady (but steep) incline to Park Fell. Avoiding the worst of the boggy patches we made our way across the open fell then followed the wall to reach the cairn on the edge of Simon Fell. We were impressed with the stile at Rawnsley's Leap and though we wondered how many Ramblers it would hold we decided not to test it out! Crossing Simon Fell we reached the rocky path that leads onto Ingleborough. With a strong wind and steady drizzle at the summit we headed back down to find a sheltered spot near Swine Tail for lunch. The rocky track then took us across Simon Fell Breast as the weather began to improve. Upon reaching the Sulber Crossroads we turned north along a pleasant grassy path to reach the outskirts of Selside. After a short road section we headed across fields to climb the limestone bank then on to Colt Park. From here we retraced our steps back to the car. Despite the weather a good day was had by all.
Scroll down to see photos of the walk
An ethereal viaduct looms beyond the hill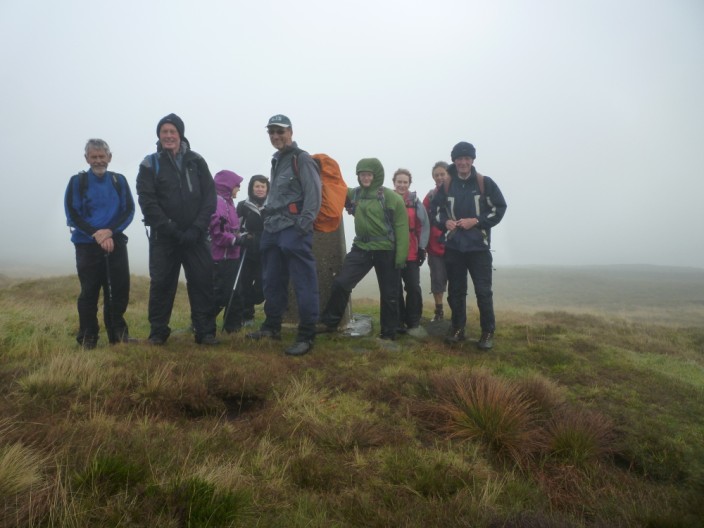 Park Fell
Ray catches forty winks at our morning coffee stop
Another group shot - not many other views today!
How many Ramblers will one stile hold!
Wet and windy on Ingleborough summit . . .
where some people take advantage of the shelter
We opt for a lower sheltered spot for lunch
The weather has cleared by the time we reach the limestone pavement . . .
and Pen-y-Ghent is finally free of cloud
The sun emerges as we retrace our steps along the road . . .
and the viaduct can now be seen though Whernside is still in cloud