Sunday, 9th October 2011
Walk:
Settle, Schoolboys Tower, Giggleswick Scar, Feizor, Pot Scar, Smearsett Scar, Little Stainforth, Stainforth, Moor Head Lane Track, Catrigg, Upper Winskill, Settle
Start Point:
The Royal Oak Hotel, Settle
Grid Ref:
SD 820 626
Distance:
15 miles
Ascent:
3,100 feet
Weather:
Heavy rain and strong winds for much of the day
Accompanied by:

7 members of the group

Comments:
Heavy rain and winds were forecast and after the first hour or so the wind and rain didn't fail to deliver. However, the group was quite cheerful and the weather didn't spoil the day.

Parts of the walk are known as The Elgar Way. Sir Edward Elgar found this part of the country captivating after being invited to the area by Dr Buck whose orchestra often played at Victoria Hall in Settle. Dr Buck met Sir Edward Elgar in Worcester in 1882 and invited him to Yorkshire. So began the composerís long association with this lovely area.
Scroll down to see photos of the walk
Looking down on Langcliffe as we make our way past the quarry
Schoolboys Tower


No doubt who's in charge here . . .
as the herd looks on
Time for decisions to be made . . .
but we find our own 'elevenses' spot
The weather closes in as we reach Pot Scar . . .
and by the time we get to Smearsett Scar it's hard work just staying upright
A barn provides some shelter for lunch - but no more pictures until the end of the walk
Robb shows off his muddy side!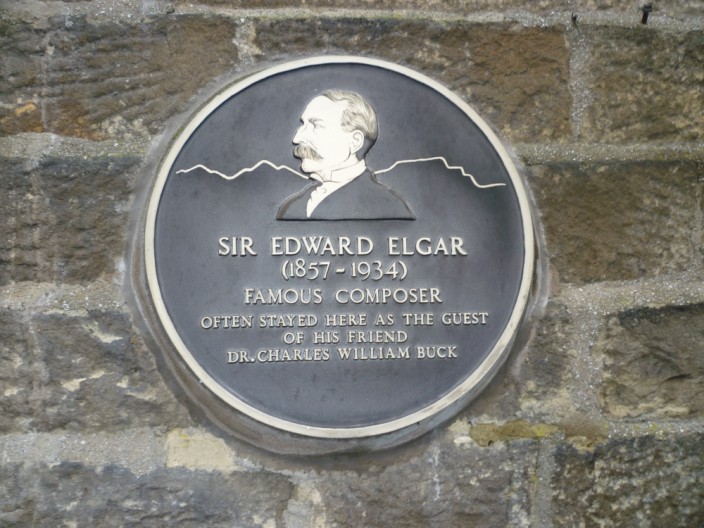 Must be an impressive building then
Well, not quite!