Friday, 9th September 2011
Walk:
Spire Hill, Walker Fold, Chaigley Hall Wood, High Deer House, Hurst Green, Lambing Clough, Ribchester Bridge, Stydd Manor, Duddle Hill, Goodshaw House
Start Point:
Jeffrey Hill
Grid Ref:
SD 639 401
Distance:
16 miles
Ascent:
2,000 feet
Weather:
Mist and drizzle in the morning clearing to sun in the afternoon
Accompanied by:

On my own

Comments:
After 4 days of heavy rain I might have expected the ground to be rather wet - and it was!!!! Starting out in mist and drizzle there were no views from Spire Hill but a couple of fell ponies provided extra interest. The plantation paths were rough and muddy and I was pleased to eventually reach the road just outside Walker Fold. At Planetree Hall I turned off to Chaigley Hall Woods and headed through the plantation. After crossing the forest track I had to change the route as an area of new planting and dense heather obscured the track. I then took a very wet route past Fell Side Farm but the farm track to Higher Deer House made walking easier. After crossing Dean Brook I made my way into Hurst Green and descended towards the River Ribble. When I last checked out this route I found the Riblle Way very muddy and overgrown so this time I stayed north of the woods and emerged at Ease Barn Farm. I found this to be somewhat overgrown and very boggy. The route then took me past Ribchester Bridge, Stydd Manor Duddle Hill and on to Longridge Fell. This part of the route was a pleasure to walk. As a change to last time I then followed the path by the wall from the plantation to the road. This, again, was very muddy and next time I will revert to the previous route. At 16 miles the walk turned out to be longer than expected but as the weather improved during the day it was a pleasant walk overall.
Scroll down to see photos of the walk
No view from Spire Hill in the mist and drizzle . . .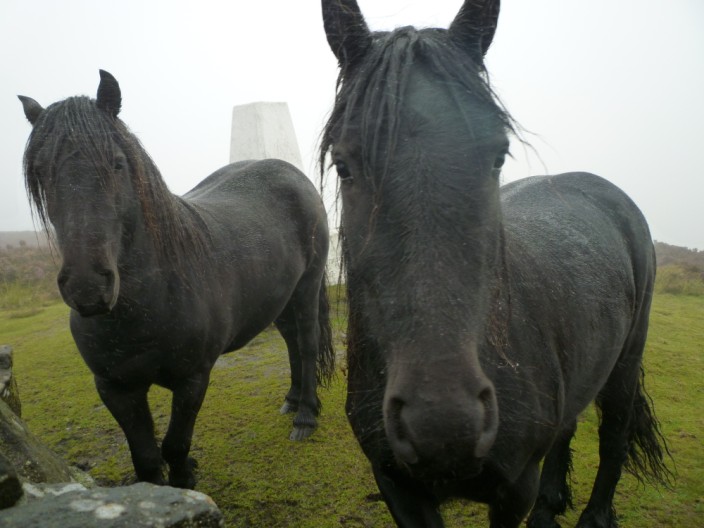 but a couple of fell ponies pose for the camera . . .
losing interest when two ladies arrive at the summit
Walker Fold provides a comfortable spot for elevenses . . .
and the view isn't too bad
Crossing Dean Brook . . .
and emerging near Greengore, a 17th century house with huge buttresses
Walking alongside Dean Brook . . .
the water forms a whirlpool . . .
before rushing over the fallen branch
A butterfly friendly community garden created with the help of children from St Joseph's Roman Catholic School . . .
in Hurst Green
Poppies in bloom at the war memorial
Ribchester bridge spans the River Ribble
The Early English style door of St Saviour's Church dates from the 13th century . . .
though the porch is a much later addition
The heather lined route to Spire Hill which I followed near the beginning of the walk
The afternoon sun picks out the ridges on Parlick