Sunday, 8th April 2012
Walk:
Hurstwood, Cant Clough Reservoir, Gorple Gate, Widdup Reservoir, Gorple Lower Reservoir, Hoof Stones Height, Sheddon Clough
Start Point:
Hurstwood car park
Grid Ref:
SD 882 312
Distance:
13.5 miles
Ascent:
2,100 feet
Weather:
Misty in the morning and wet in the afternoon
Time:
5.75 hours
Comments:
It was disappointing to see mist around as I arrived at the car park but hoped that it would clear during the day. A pleasant path took me through the woods and on to Cant Clough Reservoir. The route ascended gradually to the Pennine Bridleway/Burnley Way. A light detour allowed me to take a closer look at the Gorple Stones but as the mist closed in the views were limited. Heading down to Widdup Reservoir there were a number of interesting rock formations, some marked on the map. A short road walk took me on to Gorple Lower Reservoir and from here I detoured via Standing Stone Hill but decided it wasn't worth the effort, the trig point being set too low for any views (even if it hadn't been misty).

I then headed across to an Ancient Monument known as Reap's Cross:
This tall thin cross was erected in the 1400s as a way-marker or marker stone for pilgrims and others traversing the high Pennine moors. It is 15 feet high and stands in a rectangular, socketed base stone. The long thin rectangular shaft has chamfered edges to it which tapers away towards the top where there is a notch at either side that once formed a cross-head. But the cross has suffered from damage and when it was broken in two it only stood some 5 feet high, but in 2002 it was restored and re-erected by a team of local people including Mr Graham Walker and Mr Patrick Savage. And what an excellent job they have done with a new section put in place and a steel rod inserted to strengthen the monument. They adhered to the requirements of English Heritage due to the fact that the cross is an ancient monument and grade 2 listed. A plaque on the cross records that it was re-erected in 2002.

Following an initially clear path I navigated across Heptonstall Moor to Hoof Stones Height and on to Sheddon Clough. No time was wasted for this section due to the rain and mist. Passing the Limestone Hushings I continued on the Burney Way back to the car park at Hurstwood.
Scroll down to see photos of the walk
Hurstwood Reservoir
Unusual construction
Cant Clough Reservoir
Hare Stones
The snow is still lingering on the Pennine bridleway
On top of the Gorple Stones
Gorple Upper Reservoir
An unnamed rocky outcrop . . .
on Shuttleworth Moor
Rocks above Widdop Reservoir . . .
and at Cludders Slack
Standing Stone Hill
The central section of the cross was replaced . . .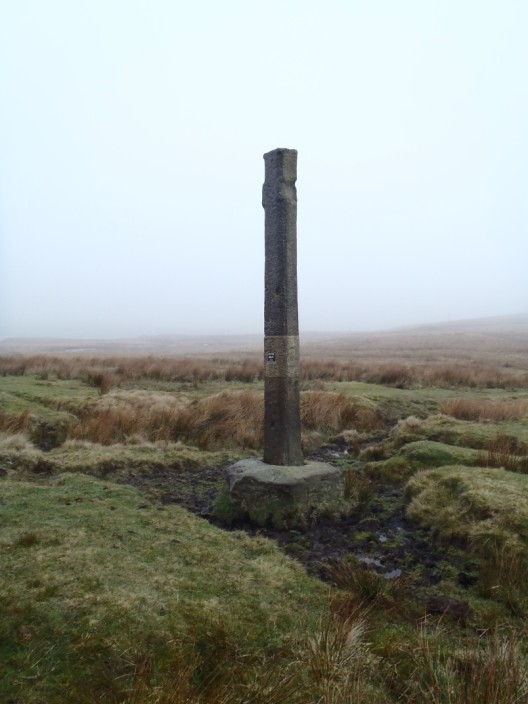 when it was repaired in 2002 . . .
but the cross pieces are still missing
Hoof Stones Height