Walk:
Apronfull Hill, Mearley Moor, Scout Cairn, Hookcliffe, Pendle Hill, Pendle House, Upper Ogden Reservoir, Spence Moor, Deerstones
Start Point:
Nick of Pendle
Grid Ref:
SD 771 385
Distance:
12.4 miles
Ascent:
2,690 feet
Weather:
Sunny with intermittent cloud cover
Time:
6 hours
Comments:
Having found the unmarked track from Apronfull Hill to the Scout Cairn on my previous walk I tried this out in the opposite direction today. It is a much pleasanter route than the main track. From the Scout Cairn I dropped down to the lower flanks of Pendle Hill and on through Hookcliffe plantation where it looks like grouse butts have been set up. After heading back up to the summit I took the 'non-tourist' route down to Pendle House. Heading south I continued on to Upper Ogden Reservoir to climb onto Spence Moor - as boggy as usual. During a short break at Deerstones I could hear a lot of noise in the woodland north of Churn Clough Reservoir. As I passed the woodland I spotted notices saying that the path through it was closed due to tree felling - hence the noise. Fortunately I wasn't going in that direction and took a fairly direct route back to the car.
Scroll down to see photos of the walk
The cairn marks a meeting of paths that are not marked on the map above Mearley Moor
The sunken wall . . .
is reflected in the still water
Descending from the Scout Cairn . . .
Worston Hill is dead ahead . . .
and a couple of fell ponies are not disturbed by this rambler
Lots of fires could be fuelled . . .
by this log pile . . .
or this one!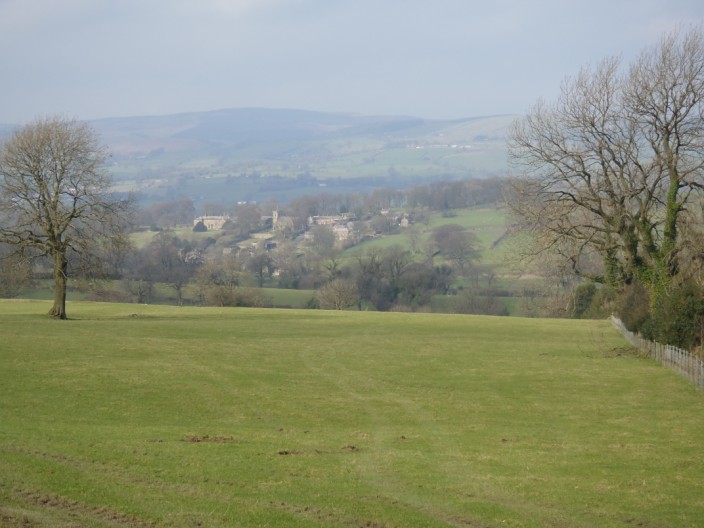 Downham from the ascent . . .
to Pendle Hill Summit (Big End)
Lower Ogden Reservoir from the bank of Upper Ogden Reservoir
Looking back across to Pendle Hill from the climb onto Spence Moor
Churn Clough Reservoir