Walk:
Chorley, Healey Nab, White Coppice, Brinscall, Withnell Fold, Brindle
Start Point:
Chorley Interchange
Grid Ref:
SD 585 175
Distance:
12.4 miles
Ascent:
1,640 feet
Weather:
Cold and dull but dry
Time:
6.5 hours
Comments:
For a change I decided to do a linear walk, taking the bus to Chorley the walking back over the moors and through small villages. Parts of the walk were very muddy - but would have been much worse if the ground wasn't partly frozen. Extra time was taken exploring Dean Black Brook but the path beside the brook was rather tricky in places. A good walk that felt longer than it actually was.
Scroll down to see photos of the walk
Crossing the Leeds & Liverpool Canal at Grey Heights - bordered by some new town houses
At the cairn on Healey Nab I met a friendly gentleman - 80 years young and still going strong
Heading down to Anglezarke Reservoir . . .
which was frozen at this end . . .
but clear of ice further south
The Mallard seems to be attracting a lot of attention from the ladies
Waterman's Cottage, also known as Heapey Cottage, was built by Liverpool Corporation for one of its employees
I decided to explore Dean Black Brook . . .
where I found an icicle wonderland . . .
hanging against coloured rock . . .
and worth a few . . .
different shots
I have been here before but soon left the lower path due to difficult navigation . . .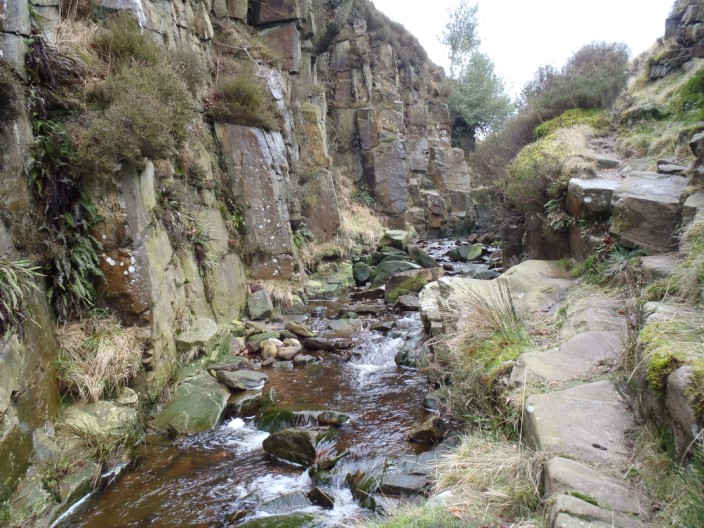 but today I headed further along . . .
and had to cross to the opposite side - before eventually climbing up the steep bank
New development at Brinscall Lodge . . .
with a spot to rest weary feet . . .
or enjoy the playground
The Old Reading Rooms at Withnell Fold
Back under the M61