Walk:
Pennine Way & Ribble Way, Sell Gill Holes, Old Ing, Ling Gill, Dales Way, Gearstones, Ribble Way, God's Bridge, New Houses
Start Point:
Horton-in-Ribblesdale car park
Grid Ref:
SD 807 726
Distance:
13.8 miles
Ascent:
1,680 feet
Weather:
Crisp and cold
Time:
6 hours
Comments:
A low level walk starting along the combined Pennine Way and Ribble Way to Sell Gill Holes. The route continued along the Pennine Way to Cam End where we turned onto the Dales Way (Roman Road). A short road stretch took us to Gearstones from where we returned along the Ribble Way. A pleasant walk on a very cold day over frozen ground which would have been very boggy in warmer conditions.
Scroll down to see photos of the walk
Pen-y-Ghent from the car park
Looking over Simon Seat to Ingleborough as we head up . . .
the Pennine Way and Ribble Way
Sell Gill Holes . . .
where the water disappears . . .
and John tries to get a closer look
A frosty scene as we make our way to find . . .
more disappearing water (not named on the map)
Ling Gill Beck . . .
with icicle reflections
The group pauses on Ling Gill Bridge . . .
before continuing on beside Ling Gill Beck
Heading along the Dales Way (Roman Road) with the Ribblehead viaduct and Whernside in the distance
Gayle Beck bridge . . .
but the sheep prefer to take . . .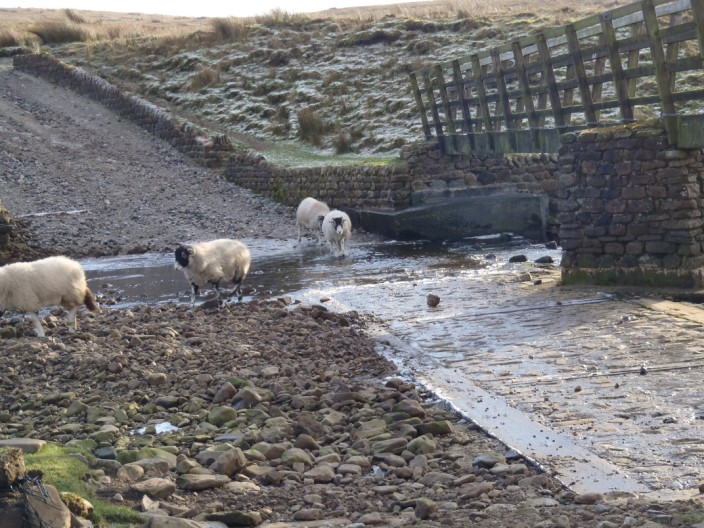 the lower route
Patterns in ice
The sun highlights the flanks of Whernside
Ingleborough hides behind Park fell
Two minutes!
Making our way back across Ling Gill Beck
Brow Gill where we find a natural bridge . . .
known as God's Bridge
Limestone escarpment at Over Ground on the Ribble Way
A slight detour!!!!
The setting sun gives Pen-y-Ghent a look of Ayers Rock . . .
and again from the car park