Walk:
Churn Clough Reservoir, Dean Farm, Pendle Way, Newchurch in Pendle, Barley Hill, Ogden Hill, Pendle Hill, Scout Cairn, Howcroft Brook
Start Point:
Nick of Pendle
Grid Ref:
SD 771 385
Distance:
12 miles
Ascent:
2,300 feet
Weather:
Mainly dry but a short rain shower followed by a short hail shower and in the afternoon a brief blizzard
Time:
5.25 hours
Comments:
This walk was similar to the last one done in this area, but with the intention of exploring a couple of paths I saw last time (not marked on the map). It was an enjoyable route and makes the a total of 7 different ways I have climbed Pendle Hill.
Scroll down to see photos of the walk
Sun breaks through the cloud, from Nick of Pendle
Churn Clough Reservoir
The sun puts the spotlight on . . .
Waterman's Cottage
Footbridge over Sabden Book . . .
and again looking towards Black Hill
Dean Farm is the oldest farm in Sabden Valley dating from 1574. Over the mullioned windows the weather worn inscription reads, "This house was built by Hugh Moore, son of Christopher Moore (eldest brother's son) and Lettuce, Hugh's wife, in the name of Our Lord God 1574".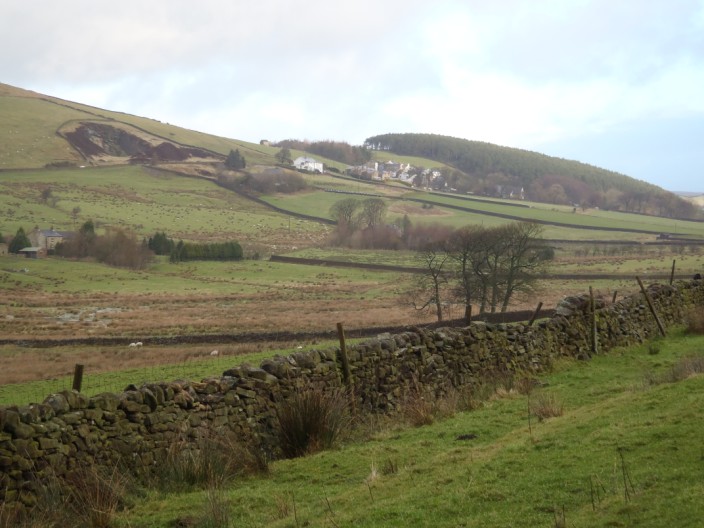 Newchurch in Pendle is now in view
Witch (which) way?
St Mary's Church - ideal morning stop
Pendle Hill from just past Newchurch
Panorama of Lower Ogden Reservoir
Black Moss Reservoirs from the climb onto Pendle Hill . . .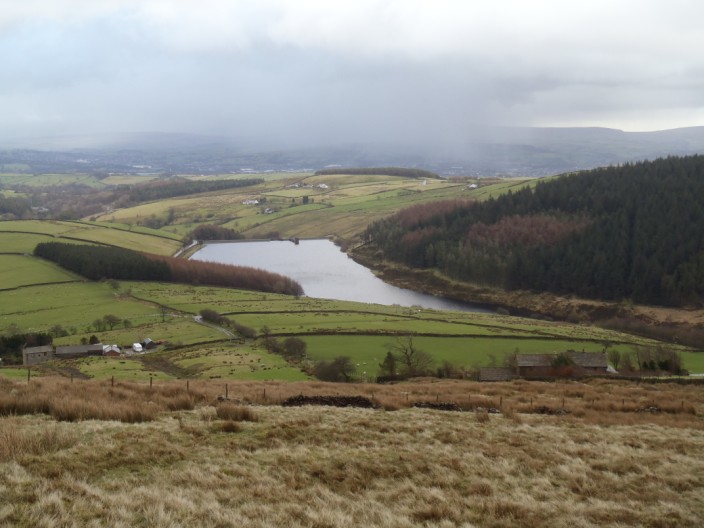 and another view of Lower Ogden Reservoir - my route was just to the left of the small forest
Looking across to the Nelson area from Pendle Hill summit
The Scout Cairn marks the start of a very boggy section
It starts to snow as I cross Howcroft Brook . . .
and is almost blizzard conditions for about 5 minutes . . .
but before you know it the sky has cleared giving views of the Parlick to Totridge Fell ridge