Sunday, 1st July 2012
Walk:
River Aire, Calton, Weets Top, Gordale Scar, Street Gate, Gate Close, Malham Tarn, Watlowes, Malham Cove, Malham, River Aire
Start Point:
Kirkby Malham
Grid Ref:
SD 893 609
Distance:
16.3 miles
Ascent:
2,170 feet
Weather:
Rain in the morning clearing to sunny in the afternoon
Time:
6.75 hours
Comments:
These are the remains of a medieval monastic wayside cross. The cross was restored in 1955 and only the base or socket stone is original. The base is made from gritstone and stands near the junction of five townships so may have been important as a boundary stone as well as a route marker to and from the Fountains Abbey estates on Malham Moor.
Scroll down to see photos of the walk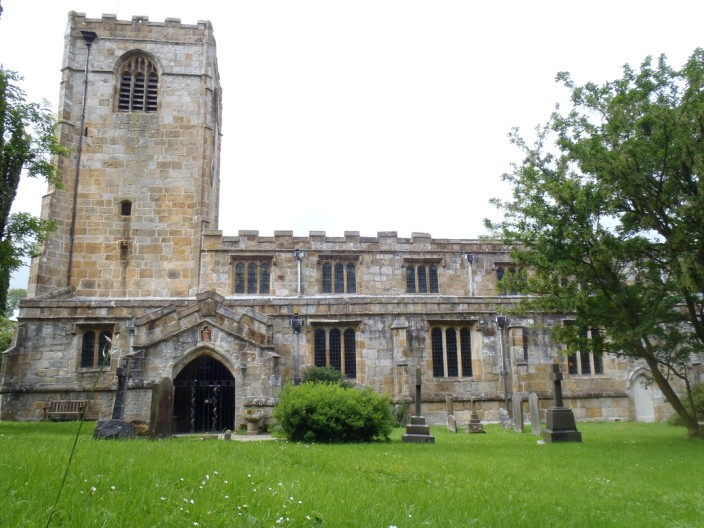 Our walk starts beside St Michael's Church in Kirkby Malham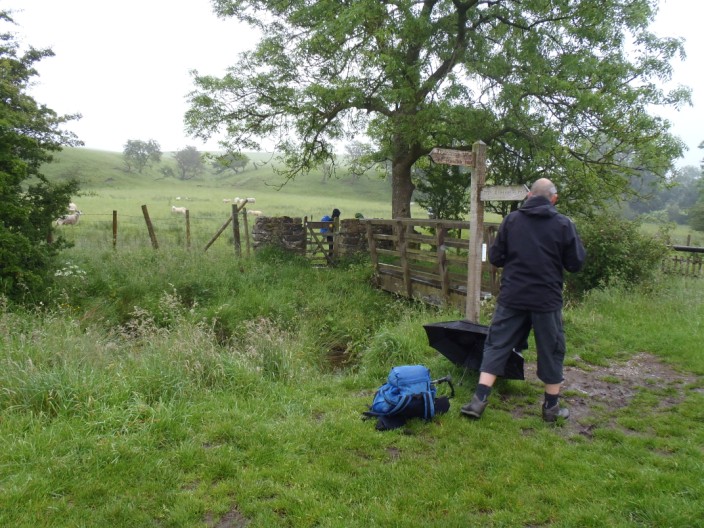 Time to put on the waterproofs as we make our way to . . .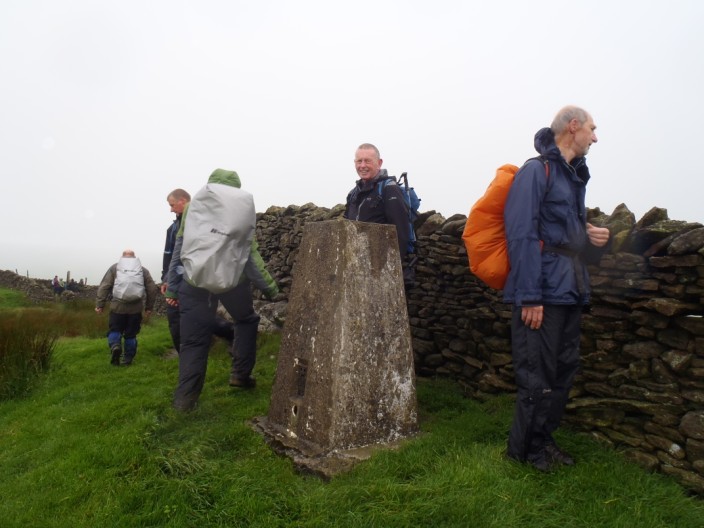 Weets Top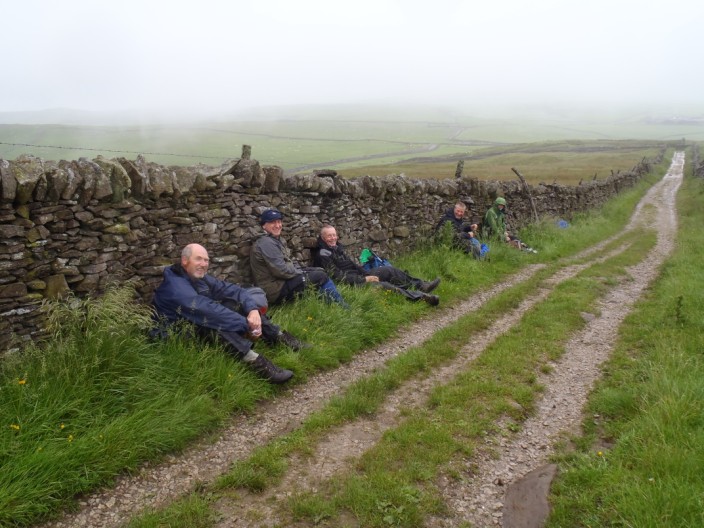 Elevenses is taken in the shelter of the wall . . .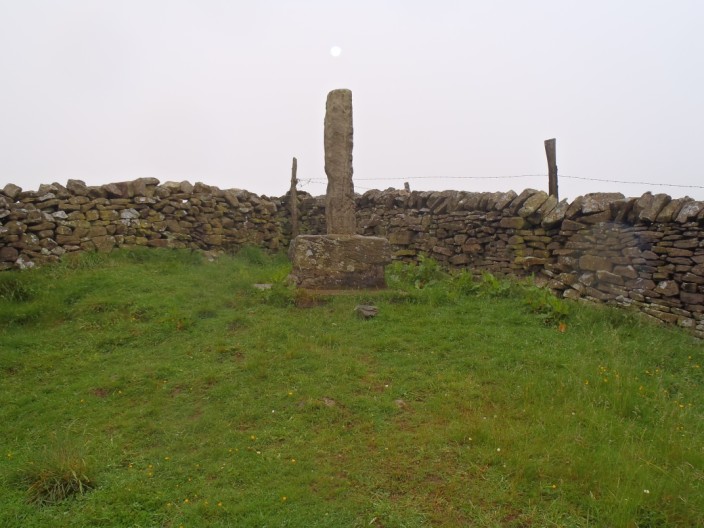 just below Weets Cross.
A misty vista as we look towards Malham
Approaching Gordale Scar . . .
the waterfalls are quite impressive . . .
but it's difficult to fully appreciate the higher waterfall
Taking the alternative path we have good views into the Scar . . .
and across the valley
A sheep takes great interest as we eat lunch
Heading down to Malham Tarn . . .
where there are a number of 'walled trees'
The group discusses the strong waves on the tarn
Heading along a very watery Pennine Way . . .
which becomes very rocky . . .
before joining the queue to descend into Watlowes
The limestone pavement above Malham Cove . . .
houses a large array . . .
of ferns . . .
in the grikes
Descending the steps to . . .
Malham Cove, some 80 metres high and 300 metres wide.
It is a curved crag of carboniferous limestone formed after the last ice age.
The emerging stream derives from the smelt mill sinks,
three-quarters of a mile north west of the Cove on the moor
The group enjoys watching . . .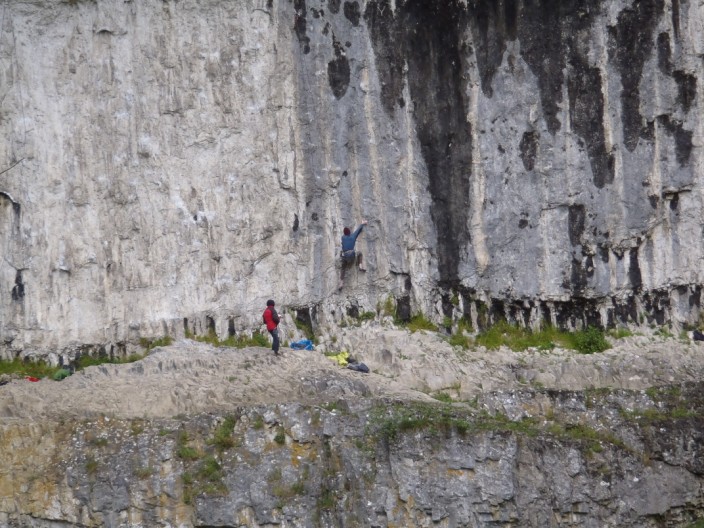 a rock climber on the first level . . .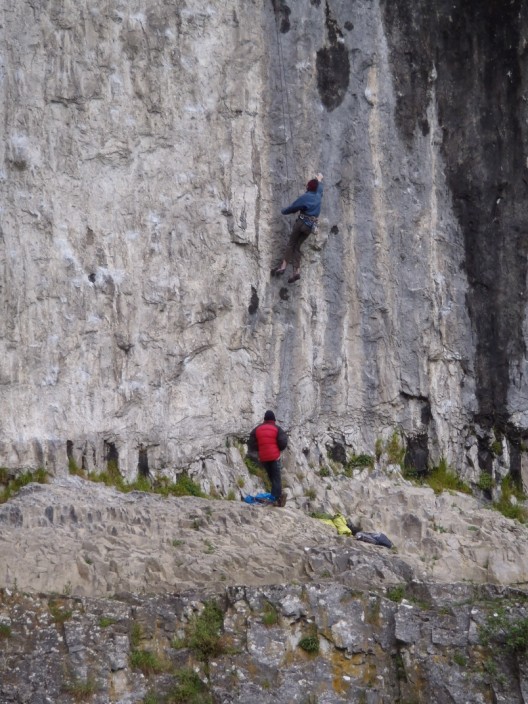 as he makes his way up the face of the rock
On the higher level and to the right . . .
another rock climber develops his skills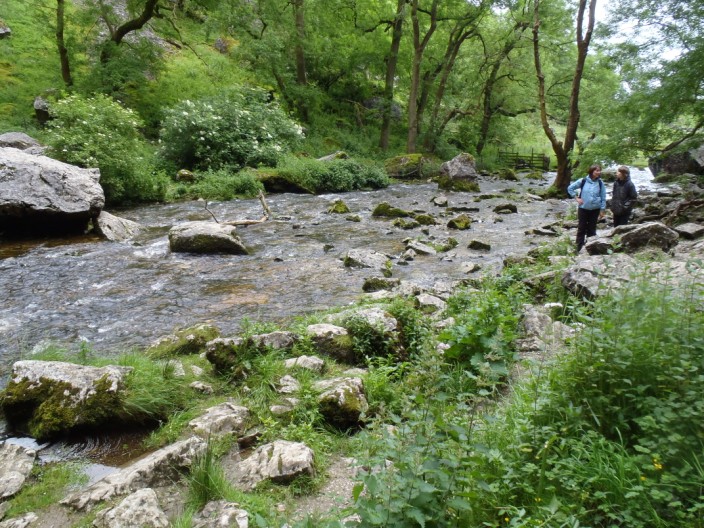 Malham Beck is quite full . . .
as we make our way past the grassy islands . . .
to cross the clapper bridge
A more distant view of the Cove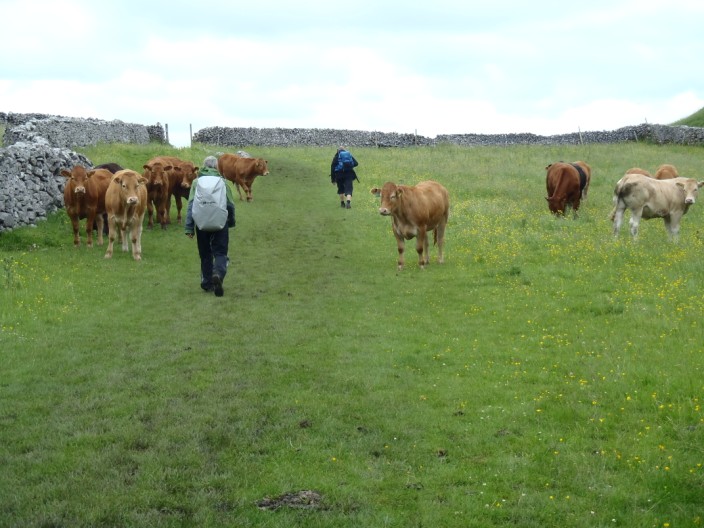 We are being watched!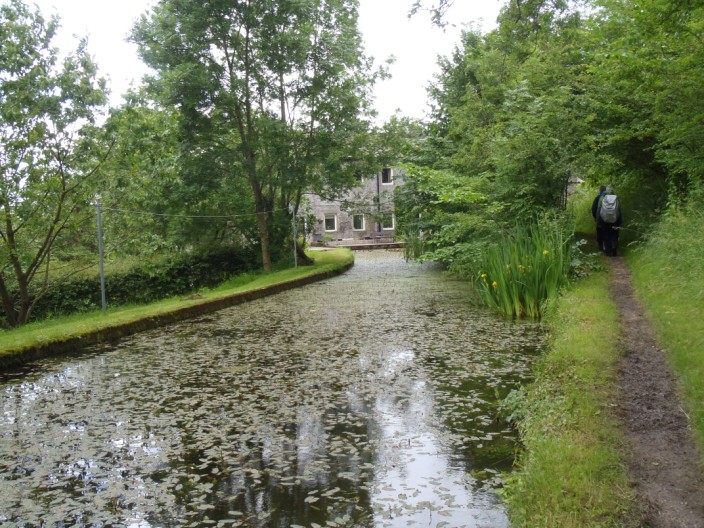 The old leat feeding Scalegill Mill . . .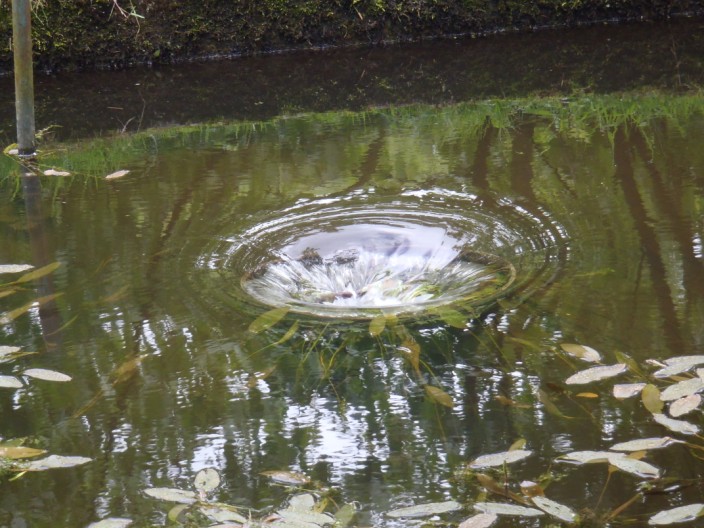 has its own overflow system
The mill was riginally a cornmill and then from later in the 18thC, a cotton mill.
The present building dates from 1794 and is now holiday flats and cottages.
Arriving back at the church