Sunday, 22nd July 2012
Walk:
Scorton, Snowhill Lane, Nicky Nook, Grizedale Reservoir, Fell End, Grizedale Bridge, Moor House, Burns Farm, Higher Lane, Grizedale Brook, Scorton Millennium Way
Start Point:
Road side in Scorton
Grid Ref:
SD 501 487
Distance:
9 miles
Ascent:
1,090 feet
Weather:
Mainly sunny
Time:
4.75 hours
Comments:
Following two weeks walking in Slovenia I decided on an easy walk today, and was joined by Marie and Sheila to follow a well known route over Nicky Nook. We were surprised to find that the top end of Snow Hill Lane had been closed to traffic - previous heavy rainfall had caused serious erosion at the sides of the road. After visiting the trig point on Nicky Nook we made our way to Grizedale Bridge then round the reservoirs to Barnacre Moor. From here we headed down to Pedder's Wood then decided to make our way across to the Millennium Way for our return to Scorton.
Scroll down to see photos of the walk
Looking over Wyresdale and Scorton Lakes to the coast
Nicky Nook
Grizedale Bridge
Curly wurly!
The cows come to investigate what we are having for lunch . . .
and show off their eyelashes
Sheila bids them 'goodbye'
Heading down to Pedder's Wood
Throstle Nest Farm is now new housing complex - the footpath has been re-routed around it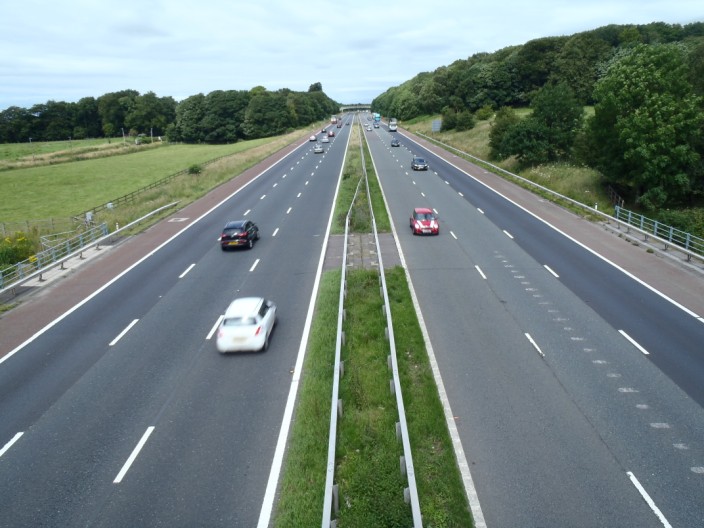 Not much Sunday afternoon traffic on the M6