Walk:
Under Loughrigg, Stockghyll Force, Kirkstone Pass, Red Screes, Middle Dodd, Scandale Pass, High Bakestones, High Pike, Low Pike, Low Sweden Bridge, Rothay Park
Start Point:
Under Loughrigg
Grid Ref:
NY 371 044
Distance:
12 miles
Ascent:
3, 290 feet
Weather:
Overcast but brightening up later in the day
Time:
6.5 hours
Comments:
A short stretch through Rothay Park and Ambleside took us on to Stockghyll Woods where the waterfalls were showing the effects of the heavy rain on previous days. Continuing along the track our first summit, Red Screes, was hidden in the mist which we hoped would clear by the time we got there. From the Kirkstone Pass we followed the initially paved route climbing steeply up the flanks of Red Screes. A couple of scrambles added to the interest and with the major part of the climb completed it was time to stop for elevenses. Passing the summit cairn we detoured out to Middle Dodd before making our way down to Scandale Pass. After climbing towards Little Hart Crag we left the main path to make our way over to High Bakestones with its impressive cairn. This made the ideal spot to stop for lunch before following the eastern arm of the Fairfield Horseshoe past High Pike and Low Pike. Another scramble led us off Sweden Crag and down to Low Sweden Bridge before returning to the car.
Scroll down to see photos of the walk
Parking beside a rather full River Rothay . . .
the group assembles for the start of the walk
Stockghyll Beck rushes to join the waters of the River Rothay
The sculpture was created by young local people of Ambleside who worked with local artists Rebecca Heaton Cooper and Sally Toms,
Named 'The Turning Point', the sculpture was unveiled and a time capsule was hidden here on 22nd July 2000.
The first of two waterfall . . .
in Stockghyll Woods . . .
and the second waterfall
Even the steps to Wansfell Pike are running with water after the recent downpours
Looking across to Kirkstone Pass, Red Screes is hidden in mist
And at the pass there is still some mist around
The lower stepped section of the climb is easy to navigate . . .
but the the ground becomes rougher at higher levels
There was a view when we stopped for elevenses . . .
and it returned before we left
Red Screes
Jenny pauses on the way down to . . .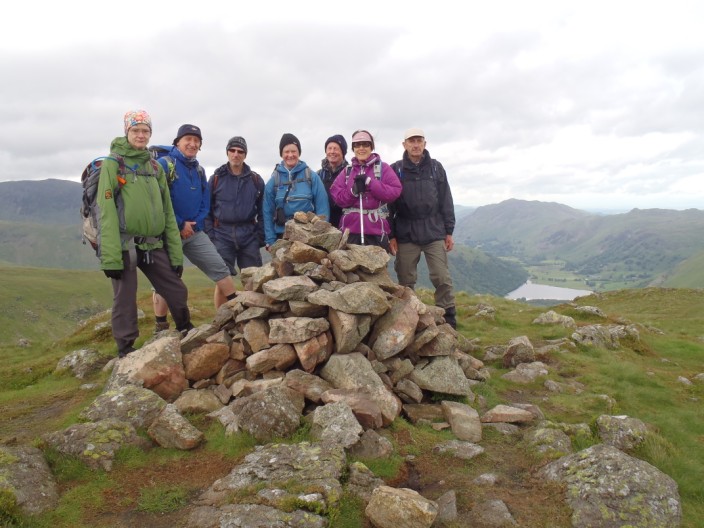 Middle Dodd . . .
where we discuss a route across to Scandale Pass
Karen spots a 'wee orchid'
An impressive cairn marks High Bakestones . . .
with Windermere in the background
A sheltered spot is the ideal place for lunch . . .
before more photos of High Bakestones with Red Screes in the background . . .
and another view over to Windermere
Robb meets a family taking a break on High Pike
Low Pike with High Pike to the left and Little Hart Crag to the right
A 'man and his dog' check out the descent at Sweden Crags
Scandale Beck . . .
passes under Low Sweden Bridge . . .
where Karen spots a small yellow fruit
Back in Rothay Park and the water looks rather high and very swift