Tuesday, 26th June 2012
Walk:
Sadgill, Shipman Knotts, Kentmere Pike, Harter Fell, Gatescarth Pass, Tarn Crag, Grey Crag, Great Howe
Start Point:
Sadgill
Grid Ref:
NY 583 057
Distance:
10 miles
Ascent:
2,900 feet
Weather:
Overcast and hazy with some drizzle in the afternoon
Time:
5.5 hours
Comments:
For today's walk I decided to combine parts of previous walks in this area. Heading up to Shipman Knotts the ground was quite boggy but there were also some good scrambly bits. Continuing on to Kentmere Pike entailed descent and ascent - much of what today's route had in store. After hopping over the wall briefly to reach the trig point I carried on to Harter Fell with its cairn sporting old fence parts. The views over the nearby fells were hampered by the hazy conditions. After making my way across the ridge Haweswater came into view, but not the lovely blue I have seen before, due to the overcast skies. After descending Gatescarth Pass for a short time I made my way across a pathless section to begin the climb to the survey pillar on Tarn Crag. Walking past the cairn (Wainwright) I made my way to the fence before once again descending and then climbing to Grey Crag. My route then led across to Great Howe and through the bracken to the rocky cleft leading back down to Sadgill.
Scroll down to see photos of the walk
The cairn on Shipman Knotts is a modest affair . . .
but it has good views across to Windermere . . .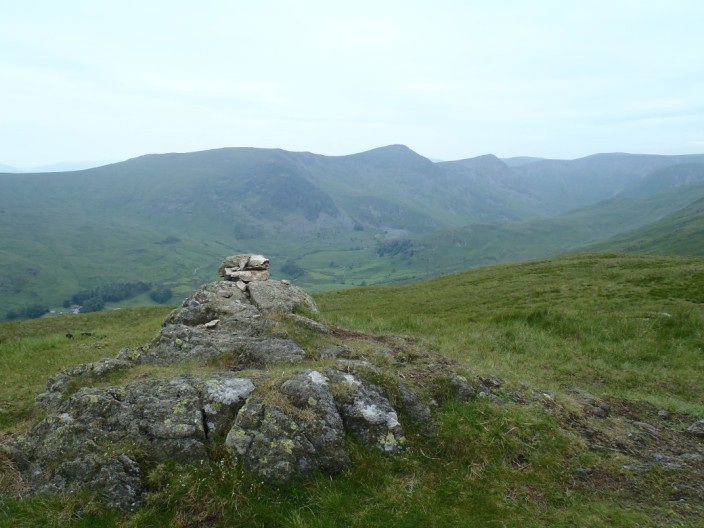 and to the trio of Yoke, Ill Bell and Froswick
Kentmere Pike sports a trig point on one side of the wall . . .
and a cairn on the other (the side you walk on)
Harter Fell, looking across to High Street and Kidsty Pike
and along the fence line which the route follows
Haweswater and The Rigg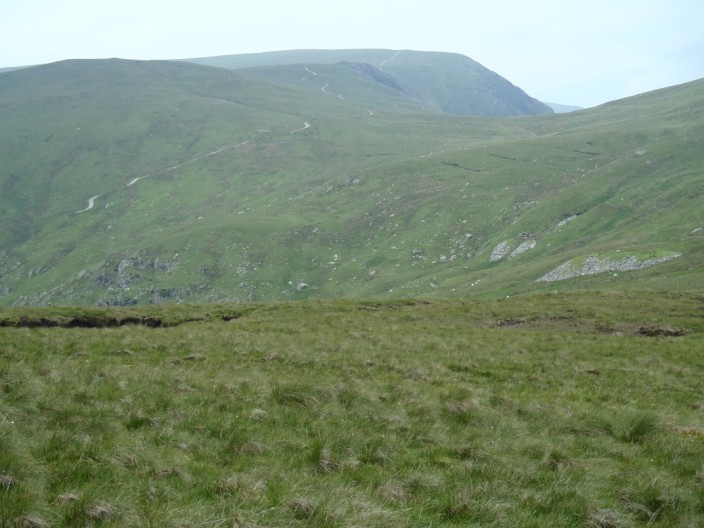 Climbing the flanks of Tarn Crag - I check out the pathless route I took from the Longsleddale track
Mosedale Valley . . .
and Mosedale Cottage
From higher up the descent from Harter Fell and the Longsleddale track can be seen
On Tarn Crag are the remains of a surveying pillar. This unusual stone and concrete construction is
cleft at the top to provide a sight line and was originally surrounded by a wooden frame, now decayed.
This is one of four such pillars built during the construction of the Haweswater aqueduct
Nearby is the cairn detailed in Wainwrights Far Eastern Fells Pictorial Guide
Grey Crag is the last Wainwright of the day . . .
and normally has a lovely view down Longsleddale
From Great Howe it looks like some rain is on its way
A cleft in the rocky outcrop leads the way down to Sadgill . . .
and looking back across the bracken to the cleft