Walk:
Cat Bells, Maiden Moor, High Spy, Rigghead Quarries, Castle Crag, Grange, Manesty Park, Brandelhow Park
Start Point:
Hawes End, Farmer's field
Grid Ref:
NY 247 213
Distance:
11 miles
Ascent:
3,050 feet
Weather:
Overcast with a cold wind on the summits
Time:
6.25 hours
Comments:
With a very wet forecast for most of the country, the North Lakes had been a good choice for today's walk. The route headed up the northern end of Cat Bells where we met a group of school children from London. After a short break at the summit we continued on to Maiden Moor where discussions about it's exact location took place. It was then a relatively easy walk to High Spy and down to the disused Rigghead Quarries - and lots of 'holes' to explore. A grassy banking provided the ideal spot for lunch before making our way round to Castle Crag. There we met another group of boys from the same school as the previous group. The come to the Lakes every year and had two more groups out today, one doing the Coledale Round and another doing the Allerdale Ramble. Quite an achievement for the school. As the day had warmed up by this stage a stop at Grange for an ice cream was in order before making our way back through Manesty Park and Brandelhow Park.
Scroll down to see photos of the walk
Arriving on the summit of Cat Bells . . .
just ahead of a group of boys from a south east London school
Derwent Water and Keswick from the summit
Looking back to Cat Bells as we start the climb to . . .
Maiden Moor
Taking the less used path from Maiden Moor we have views across Scope End and High Snab Bank to Whiteless Pike
High Spy . . .
our third Wainwright of the day
Descending through Rigghead Quarries . . .
where Robb and John take time out . . .
to explore the tunnels . . .
and an alternative view!
The old pulley system . . .
with views to Borrowdale
Jenny inspects the climbing hut . . .
which is all locked up . . .
but benefits from great views
Another tunnel to explore . . .
with evidence of rail lines
Our lunch spot has panoramic views across Borrowdale to the Stonethwaite Valley
Castle Crag on the right with Derwent Water in the distance
Derwent Water from Castle Crag . . .
where some young boys have fun on the rocks
Heading back down the spoil heap . . .
and a slight detour to check out the memorial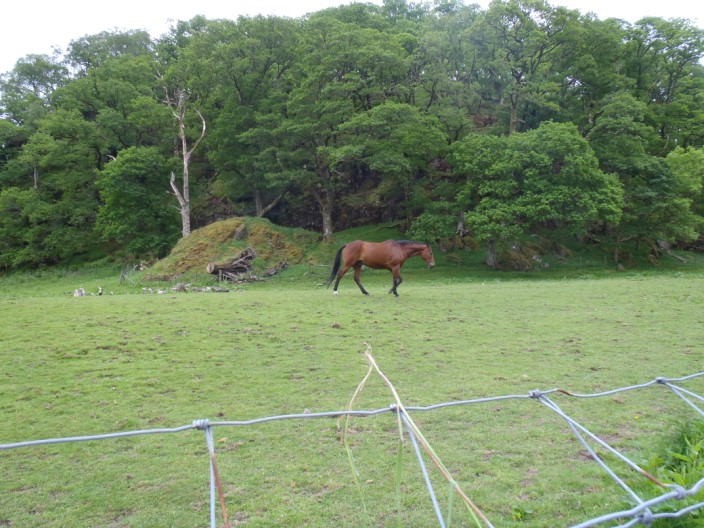 This horse attracts attention . . .
as it bucks . . .
and paws the ground . . .
before posing for the camera . . .