Sunday, 20th May 2012
Walk:
Dent, Dales Way, Craven Way, Grain Head, Whernside, Kingsdale, Green Lane (Track), Dent
Start Point:
Dent car park
Grid Ref:
SD 704 870
Distance:
13.4 miles
Ascent:
2,500 feet
Weather:
Sunny and overcast
Comments:
A pleasant stretch by the River Dee took us on to the Craven Way. The stony track climbed to a plateau where we stopped for elevenses. Soon after this Phil headed along the more direct route to Whernside while the rest of us continued on to Grain Head where we joined the main route up to the summit of Whernside. The wall provided a good sheltered spot for lunch then we made our way down to Kingsdale. After a short walk along the road we turned onto Green Lane, a stony track which has been severely eroded in places. The intention had been to turn off this track to climb Great Coum but as the leader became unwell it was decided to stay on the track and return to the car park.
Scroll down to see photos of the walk
Dent car park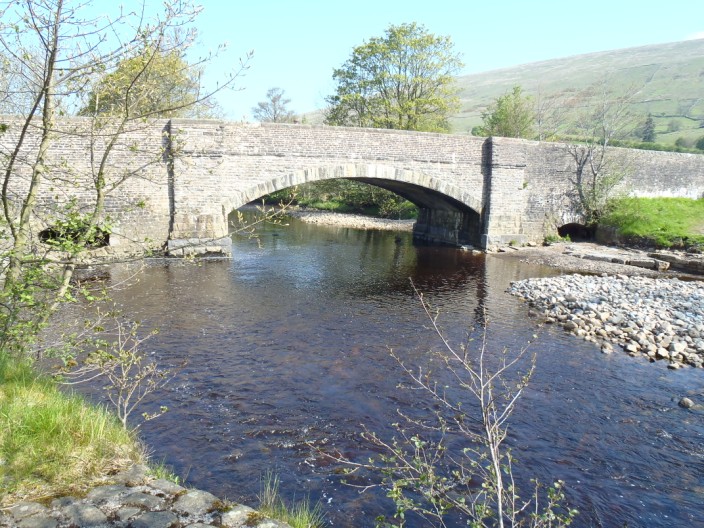 Church Bridge over the River Dee
Crossing the Keld feeder stream . . .
to walk along the Dales Way, where the wild garlic is in full bloom
Time for elevenses along the Craven Way
A stop for 'foot repairs' as we make our way . . .
towards Whernside
Phil captures us nearing the top . . .
where we stop for lunch
Group photo at the summit trig point
Taking in the view from Green Lane
An amazing tree as we descend to Dent