Walk:
Crook, Arant Haw, Calders, The Calf, White Fell, Ivy Crag, Seat Knott, Crosdale Beck, Lockbank Farm
Start Point:
Sedbergh Joss Lane car park
Grid Ref:
SD 659 921
Distance:
10 miles
Ascent:
3,020 feet
Weather:
Mainly sunny and warm
Time:
6 hours
Comments:
Heading onto the fells from the Joss Lane car park I followed an intermittent track to the summit of Crook. From here the path to Arant Haw was clearly visible. The summit was rather uninteresting but the nearby banking provided a good spot for elevenses and a good vantage point to check out the possible routes from The Calf. Heading back to the main path I made my way to Calders and on to The Calf. After a brief stop I decided to change the planned route and made my way across White Fell to a very pleasant gradual descent. After walking around the flanks of Bram Rigg, crossing the beck was a little tricky and this part of the route will be changed next time I do the walk. Climbing up the western flank of Seat Knott was quite tough and I was glad of a lunch stop at the top. From here the return route was quite muddy in places but a pleasant walk.
Scroll down to see photos of the walk
Settlebeck Gill with the flanks of Crook in the distance
Looking back to Sedbergh from the climb
Crook summit cairn with Arant Haw in the distance
Ashbeck Gill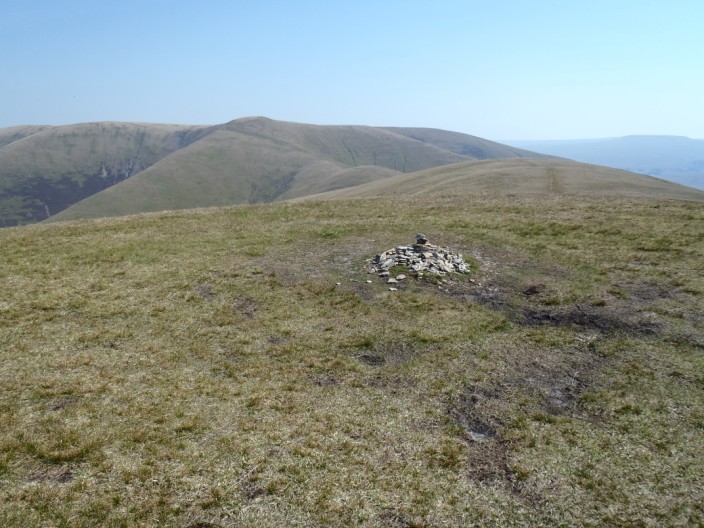 The summit of Arant Haw is a rather sorry affair!
Calders
The Calf (and me) . . .
and again showing my onward route
Bram Rigg Beck has some very slippery rocks to cross followed by a rocky scramble
Looking across Seat Knott to White Fell (centre)
Seat Knott - not much of a climb from this side!
Heading back into Sedbergh