Walk:
Kettlewell, Hag Dyke, Great Whernside, Nidd Head, Hem Gill Shaw, Starbotton Road, Starbotton, Dales Way, Kettlewell
Start Point:
Kettlewell car park
Grid Ref:
SD 967 722
Distance:
11.8 miles
Ascent:
2,100 feet
Weather:
Sunny and hot with little wind
Comments:
Leaving Kettlewell past the church I took the higher route parallel to Dowber Gill Beck to reach Hag Dyke. The route climbed gradually at first then more steeply to reach the trig point and cairn of Great Whernside, a jumble of boulders and rocky outcrop. From here I headed north past Blackfell Top and Nidd Head to reach the crossing of routes on the col. Turning south west I followed the path across Hem Gill Shaw, initially a good path but rather boggy in its later stages. There was a good parking area where the path crossed the minor road from Kettlewell. The raised earthen wall of Tor Dike made a good vantage point for lunch before continuing along Starbotton Road (track) and into Starbotton. After crossing the River Wharfe I followed the Dales Way back into Kettlewell and enjoyed a well-earned ice cream!
Scroll down to see photos of the walk
Kettlewell Church
Bridge over Dowber Gill Beck
Looking back to Kettlewell with Middlesmoor Pasture behind
Looking up Dowber Gill Beck towards Providence Pot
The way is well signposted
Too hot for the cows to do anything more than just stand still!
Hag Dyke, which has served as a hostel for scouts and youth groups . . .
since 1947
Reaching Great Whernside . . .
with its cairn and trig point . . .
and good views over the valley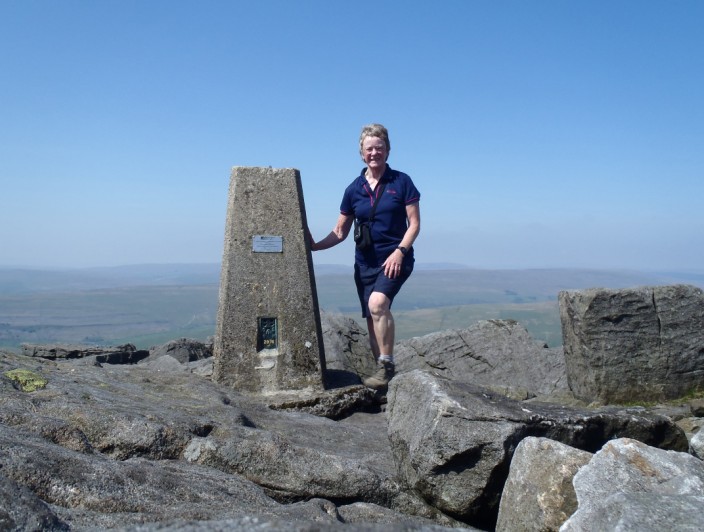 At least there are lots of rocks to balance the camera on
Shelter and rocks at Blackfell Top
Angram and Scar House Reservoirs
Tor Dike, traditionally thought to have been built in the 1st century AD to stem the encroachment of invading Romans . . .
but more recent ideas suggest a later date when the Angles began colonising the valleys
Descending to Starbotton
New Bridge at Kettlewell