Wednesday, 10th October 2012
Walk:
Chipping, Park Gate, Dinking Green Farm, Long Knots, New Laund, Fair Oak, Knot Hill
Start Point:
Chipping car park
Grid Ref:
SD 621 432
Distance:
10 miles
Ascent:
1,230 feet
Weather:
Overcast
Time:
5 hours
Comments:
The first part of the walk was quite pleasant on surfaced tracks and farm tracks. However, the fields were still very boggy and a couple of places were difficult to navigate. At Fair Oak Farm the exit from the stile was blocked and the nearby gate necessitated walking through a deep mud. Hopefully this will improve when their building developments have been completed! The geese at Knot Hill provided perfect lunch time entertainment.
Scroll down to see photos of the walk
Chipping car park
Parlick
Bracket fungi deserve . . .
a closer look from above . . .
and below
and higher up . . .
a spider's web . . .
adds to the picture
A stand off - note the dog on the right
From the first summit on Long Knots . . .
and looking back from the second summit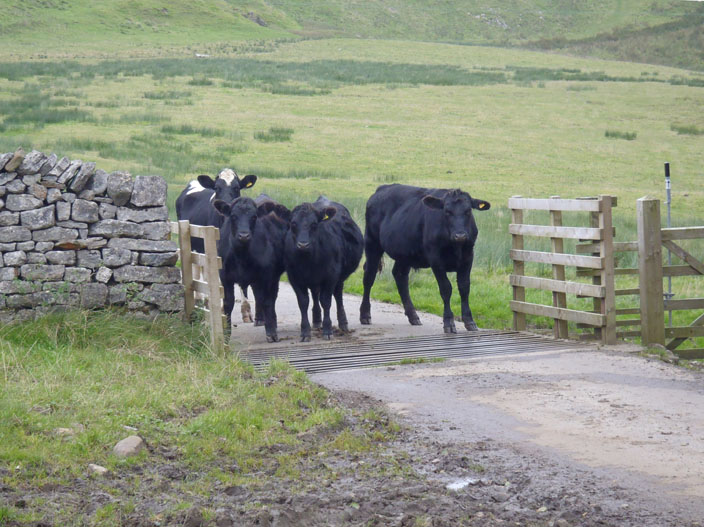 A cattle grid in action
Approaching New Laund Farm . . .
the cheese press makes an interesting feature
The Hodder Gorge from New Laund Hill
The old barn at Fair Oak Farm (1724)
The ford over Greystoneley Brook . . .
but a nearby footbridge makes crossing it easier . . .
and provides a vantage point for another photo
Lime kiln at Knot Hill . . .
where the ovens can still be seen . . .
and there is a view from above
Some noisy geese attract my attention . . .
as they preen themselves . . .
and flap their wings
Taking a closer look . . .
patience is rewarded . . .
as they peck and scratch
The goose on the left prepares . . .
for another flapping session . . .
followed by the one on the right
But when I get a little closer they soon tell me to move away!
Can we come too?
In the grounds of Leagram Hall Farm . . .
a couple of trees attract my attention