Sunday, 14th October 2012
Walk:
Grasmere, Easedale Tarn, Codale Tarn, Tarn Crag, Far Easedale
Start Point:
School playground, Grasmere
Grid Ref:
NY 338 073
Distance:
9.3 miles
Ascent:
1,720 feet
Weather:
Overcast becoming sunny in the afternoon
Time:
6.25 hours
Comments:
Walking from Grasmere today was to be a walk with a photographic focus. There were good views and lots of interest and some afternoon sun enhanced the conditions. After following the popular route to Easedale Tarn we took some time to capture the reflections in the water. It was then on to Codale Tarn and more reflections before making our way to Tarn Crag. After lunch overlooking Easedale Tarn we followed the pleasant descent to Far Easedale before tackling the rocky path to Grasmere.
Scroll down to see photos of the walk
Phil captures two boats . . .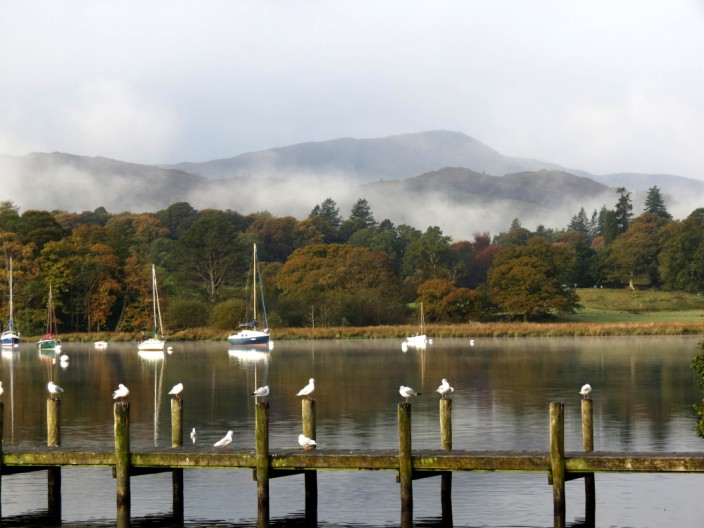 as we stop at Waterhead . . .
to take in the views
Parking in the school playground the tree stands out vividly . . .
and this garden is full of colour
We will save Helm Crag for another day . . .
as we head towards Sourmilk Gill . . .
showing the effects of recent rain
Higher up Phil spots Kath . . .
capturing another waterfall
Easedale Tarn
but the water isn't quite still today . . .
but Phil adjusts his camera . . .
and takes a sneaky photo of Kath . . .
taking in the reflections
There are good views back to the Tarn . . .
as we climb towards Belles Knott . . .
along a zig-zag path . . .
and Phil zooms in on a large group back at the Tarn
Codale Tarn provides more reflections . . .
and Phil captures me . . .
before I get a photo of him . . .
and there are more reflections . . .
at each end of the tarn
Looking back to Codale Tarn . . .
with Pavey Ark and Harrison Stickle in the distance
Phil finds a spot for lunch . . .
with views across to Morecambe Bay
and down to Easedale Tarn with its surrounding moraines
A cairn marks this vantage point . . .
and another one . . .
marks the position of the Wainwright
An interesting rocky outcrop helps to give perspective