Sunday, 21st October 2012
Walk:
Tongue Gill, Brackenwife Knotts, Stone Arthur, Great Rigg, Heron Pike, Nab Scar, Coffin Path, White Moss, Grasmere shore path, Grasmere
Start Point:
A 591 lay by
Grid Ref:
NY 338 084
Distance:
11.2 miles
Ascent:
2,740 feet
Weather:
Mild, sunny and warm
Time:
7 hours
Comments:
With a fine day forecast it was back up to the Lakes for a romp over Stone Arthur and onto the northern arm of the Fairfield Horseshoe. The climb across Brackenwife Knotts is pretty steep but at least you get all the hard work done at the beginning of the walk. The views were great in all directions and lots of time was spent taking photographs. Walking along the shore of Grasmere gave us many great views of the reflections and we marvelled at the beauty of the area. Skirting the edge of the village we then made our way across the fields and back to the car.
Scroll down to see photos of the walk
With mist on the water at Waterhead . . .
I stopped to capture a few shots
Heading up Tongue Gill we crossed the back . . .
before heading up across Brackenwife Knotts
Stone Arthur afforded views down to Grasmere . . .
and I searched out a few of the rock formations . . .
as Sheila took it easy on an outcrop
My elevenses spot looked down to the tarn
Looking back to Stone Arthur as we headed up to . . .
Great Rigg . . .
with views across to the Western Fells
Heron Pike with Great Rigg over my right shoulder . . .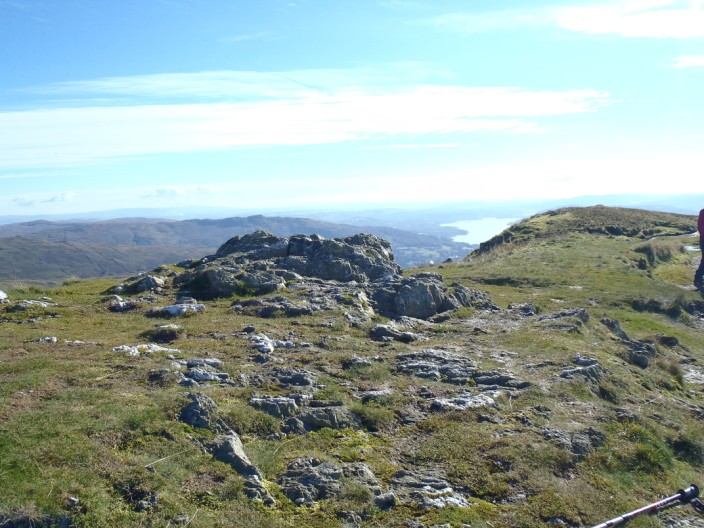 and Windermere in the opposite direction
Heron Pike on the left followed by Great Rigg and the Fairfield plateau
Grasmere with the Coniston Fells in the distance
Nab Scar sports a large cairn . . .
which I take advantage of
Zooming down to the island on Grasmere . . .
and avoiding the reflection of the sun on Rydal Water
Ambleside with Windermere on the right
A boat house on Rydal Water
Descending to White Moss car park . . .
and across the road to cross the beck . . .
via the bridge
The route followed the side of the beck . . .
to the weir at the edge of Grasmere
The reflections were very picturesque . . .
as we followed the shore path . . .
and found an unusual tree
More reflections - but I need a bigger zoom for the boat
Autumn colours as we made our way . . .
to the A591 . . .
and spot the iconic image . . .
of The Lion and the Lamb
A small herd of small calves enjoyed the luscious grass