Saturday, 22nd September 2012
Walk:
Witton Weavers Way, Duckshaw Clough, Jubilee Tower, Sunnyhurst Wood, Tockholes Plantation, Hollinshead Hall (Ruin)
Start Point:
Car park off A675
Grid Ref:
SD 665 191
Distance:
11.5 miles
Ascent:
1,540 feet
Weather:
Mild and sunny all day
Time:
5.25 hours
Comments:
Repeating a walk I have done previously in snowy then misty conditions it was good to now have a mild, sunny day. However, once off the main path the sections across pasture land was very wet due to the heavy rain we have had this year. The dome on top of the Tower was replaced in November and it was a shame to find that it is already covered with names that have been scratched into the metal frame and on the windows. The walk back through Tockholes Plantations was enhanced with the sun filtering through the tree canopy and creating light and shadow on the tree trunks. A very enjoyable walk.
Scroll down to see photos of the walk
The ridges on Winter Hill are highlighted by sun and shadow
Darwen is quite close on this side of the moor
Jubilee Tower catches the sunlight
Sunnyhurst Hey Reservoir . . .
and Earnsdale Reservoir with signs of little wind
A closer look at Jubilee Tower . . .
and zooming in on the new dome
From close up it's difficult to see the dome . . .
unless you climb to the top
and once there you can only photograph . . .
one bit at a time (shame about the damage) . . .
and the plaque tells the story of the replacement
The trig point near the Tower
Sunnyhurst Hey Reservoir . . .
and Earnsdale Reservoir from the Tower
The reflection on the reservoir is put into perspective . . .
when you take a more distant view
Entering Sunnyhurst Wood . . .
where I pass a sculpture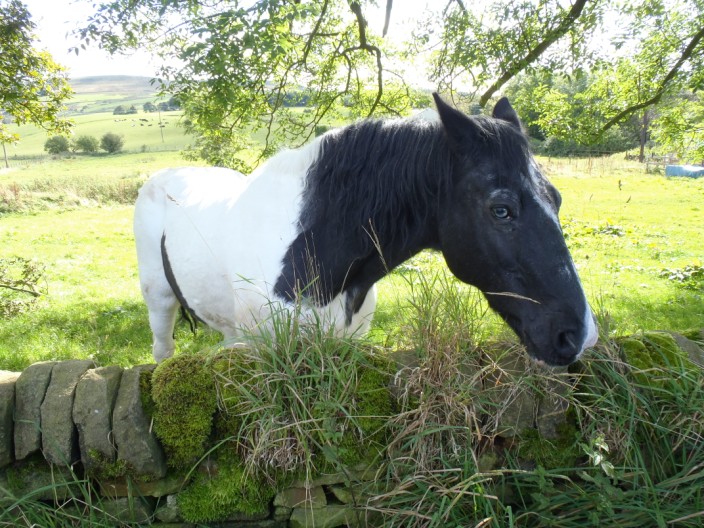 A horse comes over to greet me
The bridge at the meeting of paths in Tockholes Plantation
Some of the ruins at Hollinshead Hall