Sunday, 23rd September 2012
Walk:
Beckstones Gill, Barf, Lord's Seat, Broom Fell, Graystones, Wythop Moss, Ling Fell, Sale Fell, Wythop Wood
Start Point:
Woodend Brow car park
Grid Ref:
NY 218 276
Distance:
11.3 miles
Ascent:
3,530 feet
Weather:
Dry but a cold wind on the higher fells
Time:
6 hours
Comments:
With a dry day forecast it was good to bag a few more Wainwrights (again) in the North Western Lake District. We climbed steeply up Beckstones Gill and after crossing the Gill twice we made our way across to Barf, taking in views of Bassenthwaite on the way. From here we followed an 'undulating' course across Lord's Seat and Broom Fell before climbing up to Graystones. Backtracking a short distance we then headed across Wythop Moss where Ian, unfortunately, found a deep hole to explore! Undaunted, he wrung out his socks before continuing on to Ling Fell as, perhaps, the promise of lunch on the summit drew him on. A long descent, inevitably followed by another climb brought us to Sale Fell with the encouragement that it was 'all downhill from here. A walk through Wythop Woods eventually brought us back to the cars.
Scroll down to see photos of the walk
The Clerk and . . .
The Bishop where, according to local legend, the Bishop of Derry was killed
falling from his horse in 1783 after drunkenly betting he could ride up the hill
One of a few waterfalls in Beckstones Gill . . .
and a view back down the Gill
Bassenthwaite from the climb to . . .
Barf
Lord's Seat with Skiddaw in the distance
Ray takes it easy on Broom Fell . . .
where the majestic summits of the North-western Fells can be seen . . .
as they can from Graystones
Ian wrings out his socks . . .
on Wythop Moss - the boggy bit!
Scotland can be seen from the climb to . . .
Ling Fell . . .
with Skiddaw in the distance
John checks out a memorial seat . . .
alongside a lovely green path . . .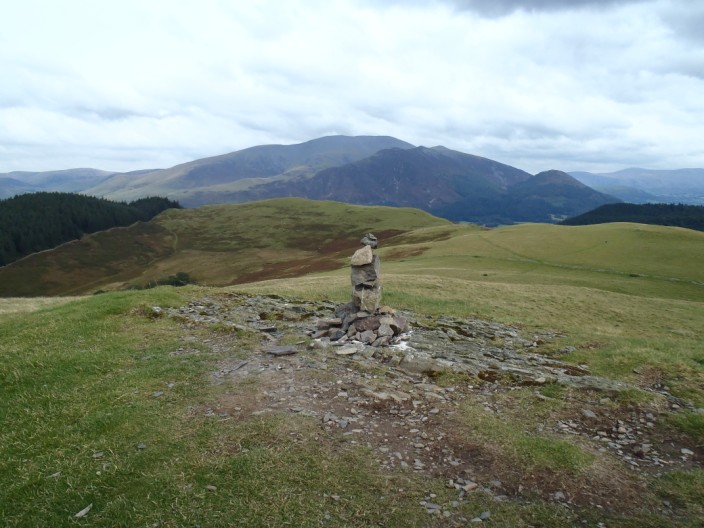 on the way to Sale Fell
where we try out a bit of illusion . . .
and Kath shows the real picture
then it's 'all downhill from here' - well, nearly all