Saturday, 29th September 2012
Walk:
Clerk Hill, Clitheroe Road, Churn Clough Reservoir, Sabden Brook, Padiham Heights, Black Hill, Read Heights, Read Park, Read Old Bridge, Portfield
Start Point:
Spring Wood car park
Grid Ref:
SD 740 360
Distance:
10 miles
Ascent:
1,500 feet
Weather:
Light showers clearing in the afternoon
Time:
5 hours
Comments:
I chose this walk for today as it has a fair stretch of walking on farm tracks and some sections on tarmac. I was pleased to find that only one section was difficult to navigate without getting too muddy. It was a pleasant day with some sun and light showers, quite a change from the recent heavy and constant rain we had been having. Walking through the woodland at Shady Walks walks with the sun filtering through the canopy of some interesting beech trees.
Scroll down to see photos of the walk
Entering the golf course one tree is already showing its Autumn colours
The sun shines on our high point of the walk at Black Hill
Churn Clough Reservoir is very picturesque in the sunlight . . .
and again from the opposite side . . .
where the waters are being churned up by the cold wind
A bridge takes us safely across Sabden Brook
Sabden and Nick of Pendle from the climb to Padiham Heights
Black Hill is the ideal place . . .
for a lunch stop
What a civilised stile with its own handrail!
Walking through . . .
the woods at . . .
White Hill and . . .
Shady Walks . . .
there are many trees . . .
that take our interest . . .
so - lots of photos
As usual the 'mouse box' has an array of flowers . . .
and nearby the three decorated bales look like they are the only ones
left from the comprehensive display seen on 2nd December 2011
Entering Read Park a select development . . .
has some very nice properties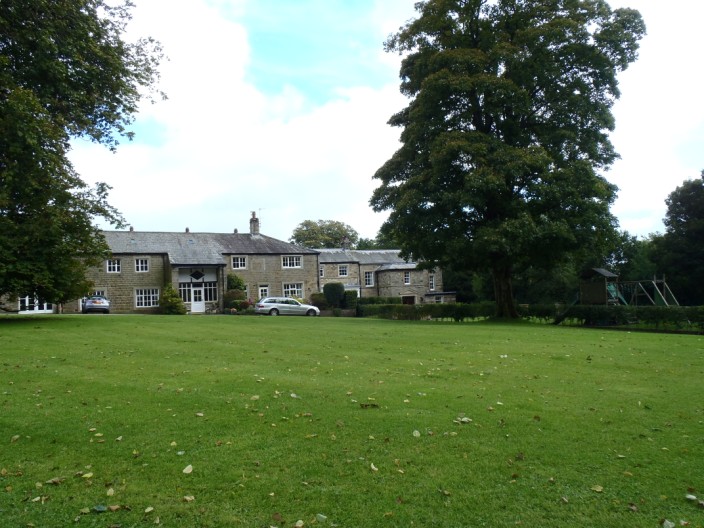 Read Hall
Read Hall Old Bridge - where, in 1643, the Parliamentarians (500 men)
ambushed the Royalists (5,000 men) and chased them back to Ribchester