Wednesday, 27th February 2013
Walk:
Healey Nab, Anglezarke Reservoir, White Coppice, Brinscall, Higher Wheelton, Brindle, Home
Start Point:
Chorley Interchange
Grid Ref:
SD 585 175
Distance:
12.3 miles
Ascent:
1,380 feet
Weather:
Sunny and mild
Time:
5.25 hours
Comments:
After taking the bus to Chorley the walk commenced from the Interchange. After a short stretch through the houses I crossed the canal and made my way to the cairn on Healey Nab. This was the ideal stop for morning coffee before dropping down to Anglezarke Reservoir, past White Coppice and through Wheelton Plantation to Brinscall. The Lodge behind Brinscall Baths provided comfortable seats and water bird entertainment while I ate my lunch. From here it was another climb to Pike Lowe before making my way towards Withnell Fold. Deciding on a change of route I diverted to Ollerton Fold before dropping down to cross the canal on the way to Brindle. Unfortunately, from here the noise of the motorway continues for most of the way home. A beautiful day for a good walk.
Scroll down to see photos of the walk
A new bridge over the Leeds & Liverpool Canal
From the cairn on Healey Nab . . .
Botany Bay and the Mormon Temple are prominent landmarks
The cairn stands just outside Nab Wood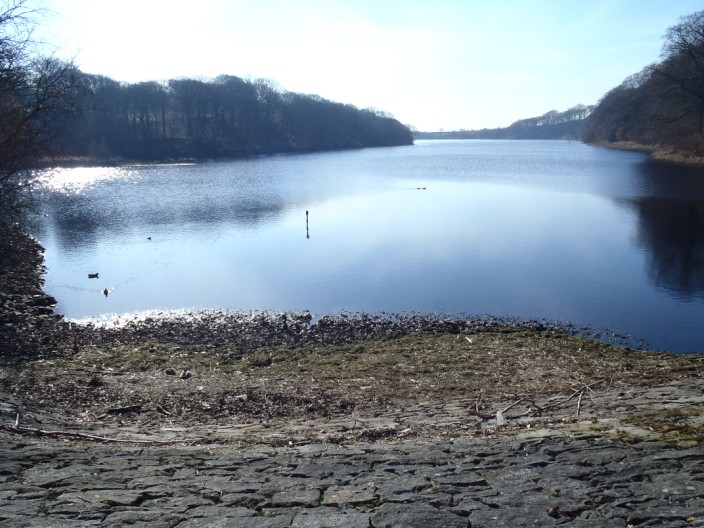 Anglezarke Reservoir . . .
and Waterman's Cottage
The catkins are in bloom . . .
and ready for a close up
Now which way shall I go?
A variety of water birds enjoy a sunny day . . .
on Brinscall Lodge . . .
which is situated just behind the baths . . .
and is bordered by some very nice properties
Coming in to land!
House and stables at Withnell Fold
It's a great day for time out on the Leeds & Liverpool Canal
First snowdrops I have passed this year
The path draws quite close to the M61 . . .
before passing underneath it