Sunday, 7th July 2013
Walk:
Brackenbottom, Pen-y-Ghent, Plover Hill, Foxup, Pen-y-Ghent Gill, Pennine Way, Brackenbottom
Start Point:
Horton Bridge
Grid Ref:
SD 811 720
Distance:
14.7 miles
Ascent:
2,750 feet
Weather:
Sunny and hot
Time:
7.5 hours
Comments:
Feeling in need of some climbing I headed to Pen-y-Ghent but decided to change the route I usually follow after descending from Plover Hill. After a gradual ascent over Brackenbottom Scar the climb up the end of Pen-y-Ghent was quite enjoyable. Despite the recent dry weather there were still a few boggy areas to be navigated on the route to Plover Hill. North of the summit the descent has been made much easier by the development of a stepped path. Normally I have turned west on reaching the cross path but today I turned east in the direction of Foxup. Initially the path was narrow and a little muddy in places but this quickly changed to a wider green path. From Foxup I headed south to reach the Littondale Road. After a short stretch along the road I turned off onto a path that paralleled Pen-y-Ghent Gill - a bit rough in places. After reaching Blishmire House the road must be followed again to Dale Head where the Pennine Way is joined for a short time. Forsaking my original plan I headed up to the foot of Pen-y-Ghent to descend back over Brackenbottom Scar and return to the car.
Scroll down to see photos of the walk
Pen-y-Ghent from Brackenbottom Scar . . .
and again from the start of the climb
Summit trig point - most of the climbing now done!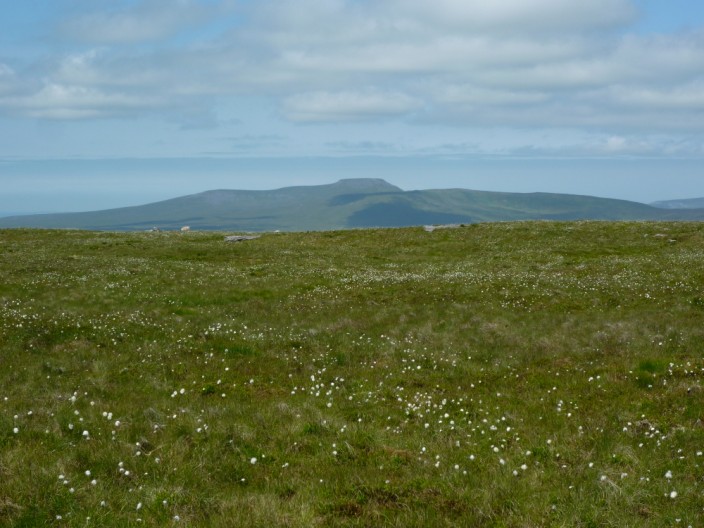 Ingleborough
The upgraded descent from Plover Hill
Heading across Foxup Moor . . .
but missing out Foxup itself
Littondale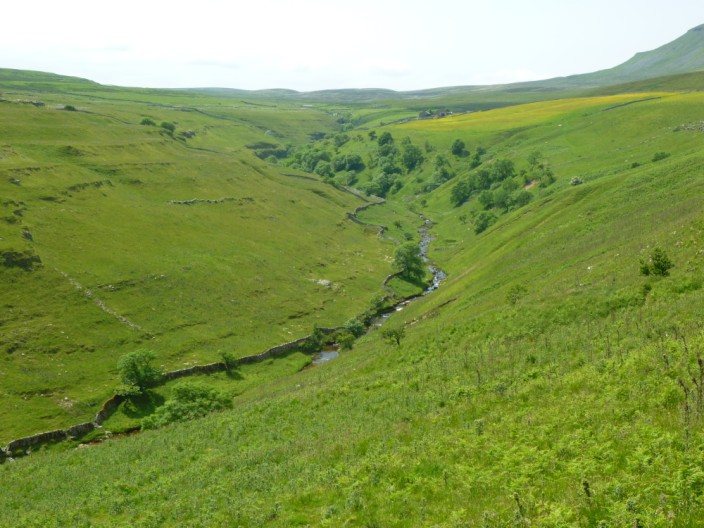 Pen-y-Ghent Gill . . .
with some pipe repair needed . . .
to stop wasting . . .
so much water
Pen-y-Ghent House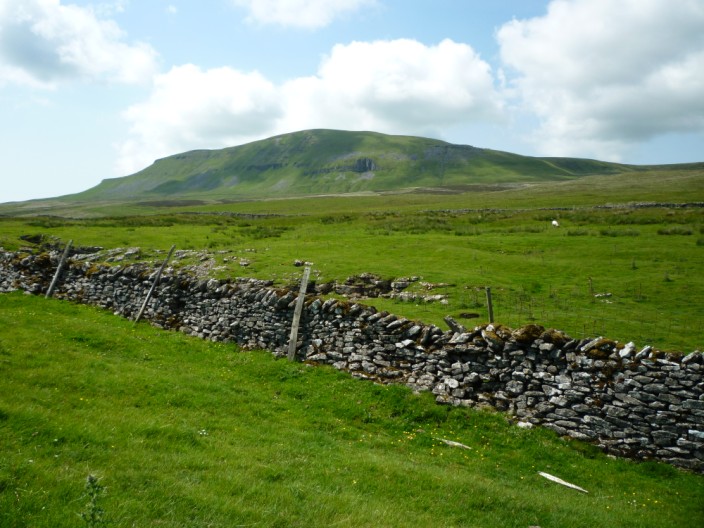 Pen-y-Ghent comes back into view
Lots of thistles now in flower
Possibly some sort of Warbler?
Time to go
Buttercups galore
Lots of farmers are busy during a sunny dry spell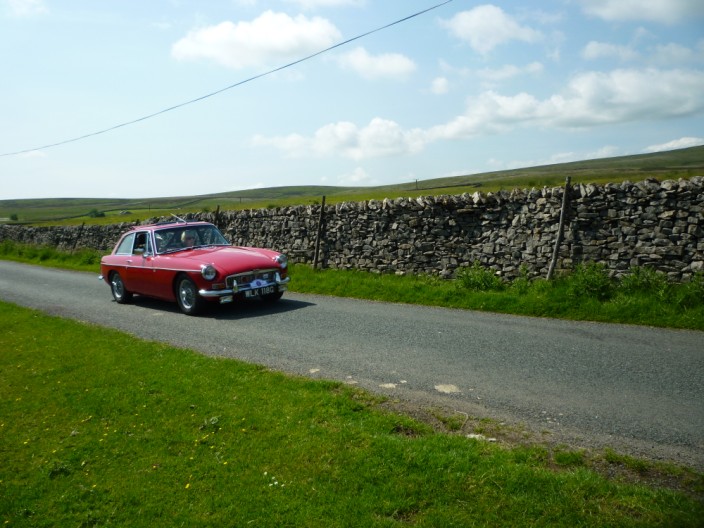 Must be a vintage car rally nearby - lots of cars passed this way
The ascent route onto Pen-y-Ghent
Looking back from the bottom of the ascent the buttercup field can be seen just above centre . . .
taking a closer look
The final climb (no, not all the way up!) . . .
before returning via Brackenbottom Scar